Lee Kuan Yew Tribute in Singapore Draws More Than 400,000 Over 4 Days
Chou Hui Hong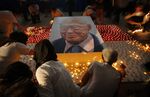 Almost 415,000 people paid final respects to Lee Kuan Yew ahead of a state funeral today for Singapore's founding prime minister, which will draw dignitaries from around the globe.
Singaporeans stood in line for as long as 10 hours to enter Parliament House, where Lee lay in state for four days before the public mourning was closed Saturday evening, according to the official website set up for tributes to Lee.
World leaders including Japanese Prime Minister Shinzo Abe and Indian Prime Minister Narendra Modi are to attend today's funeral. Public events have been curtailed during a week of mourning since Lee died at 91 on March 23, including the city's nightly laser-light shows. Lights were dimmed at many buildings and the city's two casinos will close for four hours during the funeral service.
"The world is a better place for Lee Kuan Yew," said Henry Kissinger, President Richard Nixon's secretary of state. "He taught us about the way Asians think about problems and he explained to us what development meant in a practical sense."
Kissinger and former President Bill Clinton will represent the U.S. at the funeral. Other dignitaries scheduled to attend include Indonesian President Joko Widodo, Australia's Tony Abbott and South Korean President Park Geun Hye, U.K. House of Commons leader William Hague and Igor Shuvalov, Russia's first deputy prime minister.
Other government and business leaders from Brunei's Sultan Hassanal Bolkiah to Hong Kong billionaire Li Ka-shing visited the city earlier in the week to attend a private wake at the Istana presidential palace.
Chief Mourner
Lee's flag-draped coffin was carried on a gun carriage from the presidential palace to Parliament House on Wednesday following the two-day private wake. As prime minister from 1959 to 1990, Lee helped turn Singapore into Southeast Asia's richest nation by opening it to foreign investors while running a tightly controlled state that emphasized incorruptibility and stability. He stepped down from the cabinet in 2011.
Singapore Prime Minister Lee Hsien Loong, Lee's eldest son, was Chief Mourner in a week of tributes to his father that included a 70-meter (230-foot) procession on foot by his extended family. Sunday's funeral procession will travel 15 kilometers (9 miles) through the city's financial district, Lee's constituency and other neighborhoods before reaching the University Cultural Centre in southwestern Singapore for the service.
The government increased access to Parliament House to 24 hours starting Wednesday morning until 8 p.m. last night after mourners lined for more than a mile to pay their final respects to the Cambridge-trained lawyer who guided the city-state to independence and economic prosperity.
Before it's here, it's on the Bloomberg Terminal.
LEARN MORE