Nigeria Results Show Tight Election Race as Protests Erupt
Elisha Bala-Gbogbo, Daniel Magnowski and Pauline Bax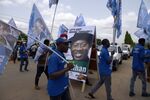 Early results in Nigeria's presidential election showed a tight race as tensions mounted in the key oil- producing Rivers state and the northern city of Bauchi where the main opposition party alleged the vote was rigged.
Results from the Independent National Electoral Commission showed President Goodluck Jonathan leading with 47.3 percent of the vote to 46.9 percent for former military ruler Muhammadu Buhari, with results from eight of 36 states and the Federal Capital Territory. Four states that Buhari lost to Jonathan in 2011 swung in his favor.
Earlier, police fired tear-gas canisters to disperse hundreds of women who support Buhari's All Progressives Congress on Monday as they tried to march to the electoral office in the oil-industry hub of Port Harcourt, the Rivers state capital. Thousands regrouped in the afternoon. In the northern city of Bauchi, demonstrators came out in defiance of a 24-hour curfew that they said was imposed to rig the vote on behalf of Jonathan.
The election, a key test of stability in Africa's largest oil producer, pitted Jonathan, a 57-year-old southern Christian, and his People's Democratic Party, against Buhari, a 72-year-old northern Muslim, and 12 other candidates.
"It's too early to say where this is headed, results from the home regions of the two candidates are yet to be announced," Manji Cheto, a London-based vice-president at consultancy Teneo Intelligence, said by phone. "That said, Kano and Lagos are going to be decisive because they are the largest states and they are expected to be in favor of Buhari."
'Disturbing' Indications
There were "disturbing" indications that the collation process, where votes are finally counted, may be subject to deliberate political interference, U.S. Secretary of State John Kerry, U.K. Foreign Secretary Philip Hammond said in a joint statement on Monday. The U.S. and U.K. governments would be very concerned at any attempts to undermine independence of the electoral commission and its chairman Attahiru Jega, they said.
A coalition of civil-society groups monitoring the election, known as the Situation Room, said in a statement on Monday it's received reports of politicians trying to use Nigeria's national security agencies to interfere with the vote-counting process.
The APC called for an annulment of the vote in the southern Rivers state, alleging that its supporters had been arrested and intimidated, while election officials, police and the ruling party colluded to distort the outcome.
Rivers State
Results announced by the Rivers state electoral officer John Etu-Efeotor in Port Harcourt showed Jonathan winning by a margin of 1.48 million votes to 62,238 for Buhari. The APC rejected the result, according to local campaign spokeswoman Ibim Semenitari.
About 56 million of the 68.8 million registered voters were issued cards that enabled them to cast ballots.
To win, a presidential contender must take at least 50 percent of the total vote while winning a quarter of the ballots in a minimum of 24 of the 36 states. If none of the 14 candidates secure such a victory, a run-off would be held within seven days after the results are announced.
The PDP has governed Nigeria since the army relinquished power in 1999.
"If Buhari loses you can expect very serious protests in the north," Nnamdi Obasi, senior Nigeria analyst at the Brussels-based International Crisis Group, said by phone from Port Harcourt. "He has a very large cult following."
Monitors' Reports
An observer mission from the European Union said Monday that while there were logistics and communications problems in the vote at the weekend, there was no evidence of a systematic manipulation of the process. Its conclusions largely echoed those from United Nations and African monitors.
The Washington-based National Democratic Institute "recognizes that Nigerian voters conducted themselves in a peaceful and orderly manner on election day and urges politicians across the political spectrum to recognize the public manifestation," said Johnnie Carson, a former U.S. assistant secretary of state for African affairs.
The election took place against the backdrop of a six-year insurgency waged by the Islamist militant group, Boko Haram, and a plunge in the price of oil, Nigeria's biggest export.
Fitch Ratings cut Nigeria's credit-rating outlook to negative on Monday, citing the drop in oil prices and the tight election contest, while affirming the country's BB- rating, three steps below investment grade.
Market Reaction
The naira was unchanged at 199.10 per dollar at 5:10 p.m. on Monday in Lagos. The Nigerian Stock Exchange All Share Index rose 1.7 percent. Yields on the nation's $500 million of Eurobonds due July 2023 fell 3 basis points to 6.5 percent, the lowest since Dec. 10.
Nigerian equities rose to a near three-week high as isolated incidents of violence spurred investors to take advantage of the cheapest stocks in Africa before final results from presidential and legislative elections are tallied.
The vote was extended for a second day on Sunday at about 300 of the more than 100,000 polling points, where the late arrival of officials and faulty biometric voter-card readers caused delays on March 28.
Buhari's party has painted Jonathan's government as corrupt, incompetent and incapable of defeating Boko Haram, which has killed at least 1,000 people this year, according to Human Rights Watch. The PDP says Buhari is too old and human rights abuses were rife during his tenure.
Before it's here, it's on the Bloomberg Terminal.
LEARN MORE