Japan's Industrial Output Drops, Adding to Signs of Weakness
Keiko Ujikane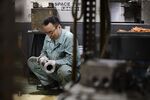 Japan's industrial production fell more than forecast in February, adding to pressure from a drop in consumer spending and faltering inflation.
Output declined 3.4 percent from January, when it rose 3.7 percent, the trade ministry said in Tokyo on Monday. The median estimate of 28 economists surveyed by Bloomberg was for a decline of 1.9 percent.
The data are the weakest since June last year and underscore the fragility of Japan's recovery from a recession last year. Holidays in many parts of Asia that took place in February this year also curbed export demand during the month, further reducing production, according to economists at Mizuho Securities Co.
"A recovery in consumer spending has been slow after last April's sales-tax hike and exports aren't that strong yet," said Taro Saito, director of economic research at NLI Research Institute in Tokyo. "Today's figure is a reminder that it may be too early to be very optimistic about the economy."
The yen was at 119.22 per dollar at 9:15 a.m. in Tokyo, 0.1 percent weaker, while the Topix index of stocks declined 0.6 percent.
Production was down in 12 of 15 sub groups, with a 7.6 percent drop in output of computers and other information technology equipment. Output of electronic parts slipped 7.4 percent.
Inventories rose 0.5 as companies lowered production and reduced shipments.
Slowing Momentum
"Production growth is losing momentum, excluding the effects of Lunar New Years holidays in Asia," said Kiichi Murashima, an economist at Citigroup Inc. in Tokyo. He expects output in the three months through March to rise about 1.1 percent from the previous quarter.
Consumer prices excluding fresh food and the effects of a sales tax increase were flat in February, data released last week showed, as falling oil prices drag on inflation. Household spending dropped 2.9 percent from a year earlier, the 11th straight monthly decline, while retail sales fell 1.8 percent.
The value of overseas shipments fell a seasonally adjusted 7 percent in February from the previous month when they rose 2 percent, as companies in China, South Korea and other countries increased purchases ahead of factory shutdowns over the holiday period. Real exports, which is the value of shipments adjusted for price changes, fell 8.6 percent in February, Bank of Japan data showed.
Japan's emergence from recession in the final quarter of 2014 was weaker than first estimated as companies unexpectedly cut investment and drew down their inventories. The economy expanded an annualized 1.5 percent in the three months through December from the previous quarter, less than a preliminary 2.2 estimate percent, after shrinking for 2 quarters.
Before it's here, it's on the Bloomberg Terminal.
LEARN MORE