Greece's Tsipras Meets Cabinet as Creditors Ponder Overhauls
Paul Tugwell and Nikos Chrysoloras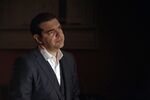 Greece's Prime Minister Alexis Tsipras is holding a cabinet meeting as Greek officials and creditors in Brussels discuss proposed overhauls for the country to secure more funds from the euro area and stave off fiscal collapse.
Negotiations with Greece's creditors are continuing and the government is presenting a program that would allow a primary budget surplus of 1.5 percent of its 2015 economic output, Finance Minister Yanis Varoufakis said in an interview published Sunday in the Athens-based To Vima newspaper.
Tsipras's Syriza party was elected Jan. 25 on a platform of easing austerity measures and restructuring debts related to the nation's bailout. While the government has retreated on those positions, resulting in a Feb. 20 agreement with euro-area partners to extend a loan accord until the end of June, it faces an uphill task persuading creditors that Greece is making the pledged reforms.
Greece has red lines and won't agree to any "recessionary measures" such as cutting wages or pensions or allowing mass layoffs, Tsipras told Real News newspaper of Athens this weekend.
The proposed reforms will bring in 3 billion euros ($3.3 billion) of additional revenue this year and enable the economy to grow 1.4 percent in 2015, said a Greek government official who asked not to be identified in line with policy. Creditors agreed to extend Greece's bailout program until June in return for commitments such as creating a new culture of tax compliance.
Talks between Greek officials and the so-called Brussels Group, which started yesterday and have continued on Sunday, are cooperative, detailed and meaningful, a Greek government official said on condition of anonymity as the discussions are private. Both sides agreed in principle that policies should shift the burden from lower income groups to higher earners, the official said.
Tsipras requested parliament speaker Zoe Konstantopoulou schedule a session in the legislature for Monday to discuss talks with Greece's creditors, a Greek government official told reporters in an e-mailed statement on condition of anonymity, in line with policy.
Capital Flight
Greece's anti-austerity government is planning to raise the 3 billion euros with steps that include increasing duties on alcohol and cigarettes, clamping down tax evasion and privatizing state assets under certain conditions.
"After capital flight of 50 billion euros within three months, it is difficult to see how Greece could muster any growth at all this year," Holger Schmieding, chief economist at London-based Berenberg Bank, said in an e-mailed reply. "And after the plunge in tax revenues in January and February, Greece is on track for a primary deficit, not a surplus," he added.
Tsipras must also win over members of his own government. The only way for Greece to end its crisis is through confrontation, if not conflict, with a "Germanized Europe," Energy Minister Panagiotis Lafazanis said in an interview with the Athens-based Kefalaio newspaper. Privatizations, especially in strategic areas, "can't and won't happen," he said.
'Bad Scenario'
Euclid Tsakalotos, international economic affairs minister, said Greece won't abandon its anti-austerity philosophy in return for aid, according to an interview with the U.K.'s Guardian newspaper. Greece wants an agreement but will go its own way "in the event of a bad scenario," he said.
Fitch Ratings lowered Greece's credit rating on Friday by two levels to CCC, or seven levels below investment grade, citing the country's liquidity constraints and difficulties in reaching a financing deal with its creditors.
"Lack of market access, uncertain prospects of timely disbursement from official institutions and tight liquidity conditions in the domestic banking sector have put extreme pressure on Greek government funding," Fitch analysts led by Douglas Renwick said.
European officials have said that Greece could default on its obligations within weeks. The nation will need to make a payment to the International Monetary Fund on April 9 of about 360 million Special Drawing Rights (SDRs), equal to about 458 million euros.
"With every week that passes, the hole that Syriza is digging for Greece is getting bigger," Berenberg's Schmieding said. "I would be surprised if the institutions were to simply sign off on such Greek assumptions for growth and the primary balance."
Before it's here, it's on the Bloomberg Terminal.
LEARN MORE