ECB, BOE to Guard Clearinghouse Stability After EU Ruling
Simon Kennedy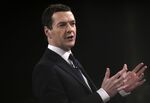 The European Central Bank and Bank of England took joint steps to ensure financial stability in the market for euro-denominated trades after the ECB this month lost a legal battle over the location of clearinghouses.
Following the March 4 ruling of the European Union General Court that the ECB lacked the power to dictate where the clearing of such trades can take place, the two central banks agreed to exchange more information regarding U.K.-based counterparties. They also broadened the use of a currency swap line to ensure liquidity can be provided more easily if needed.
The pledges, made in a joint statement by the BOE and ECB on Sunday, along with the ECB's decision not to appeal the EU court's ruling, were enough for the U.K. government to withdraw other legal challenges to the ECB's location policy.
"These agreements not only strengthen financial stability across the EU, but also secure a very important principle of non-discrimination of countries outside the euro zone, including Britain," U.K. Chancellor of the Exchequer George Osborne said in a statement. "This is vital to our relationship with the euro zone, and is another step forward in terms of a reformed EU."
The EU court had said that the ECB would require a change in EU law to win the right to dictate the location of trades in a decision viewed as a win for the City of London, as Britain's financial district is known.
Locating Clearinghouses
The ECB had said clearinghouses should be located in the 19-nation currency bloc, a policy the U.K. argued could see a fragmentation of clearing along currency lines.
The euro-area's central bank told the EU court in a hearing in July that its oversight requires "day-to-day monitoring," which it can't guarantee outside the euro area.
Clearinghouses such as LCH.Clearnet Ltd., majority owned by the London Stock Exchange Group Plc, and Deutsche Boerse AG's Eurex Clearing operate as central counterparties for trades. Traders post collateral, reducing the risk that a defaulting trader would trigger a succession of further defaults.
Other central clearers with operations in London include CME Clearing Europe and ICE Clear Europe. LCH.Clearnet also has approval from the European Securities and Markets Authority to run a clearinghouse in Paris.
(An earlier version of this story was corrected to change the date of the EU court's ruling.)
Before it's here, it's on the Bloomberg Terminal.
LEARN MORE