Saudi Stocks Lead Arab Market Rally as King Vows Yemen Stability
Sarmad Khan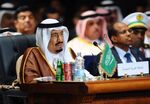 Saudi Arabian stocks jumped the most in six weeks, leading a rally in Arab equity markets, after the country's king pledged to restore stability in Yemen.
The Tadawul All Share Index, the main gauge for the world's biggest oil exporter, added 1.9 percent, the sharpest increase since Feb. 15 at the close. Qatar's QE Index climbed for the first time in three days, and Dubai's DFM General Index added the most since March 23. The Bloomberg GCC 200 Index, a gauge of the Gulf Cooperation Council's top 200 equities, advanced most in more than a month.
Stocks in the region were caught in a selloff last week as a Saudi-led coalition started bombing targets in Yemen after Shiite rebels advanced on the southern port of Aden, where forces loyal to President Abdurabuh Mansur Hadi have rallied. Saudi Arabia's King Salman yesterday told Arab leaders the coalition would press its military offensive until stability in Yemen is restored.
"The message from the Saudi king is very clear and it shows they have the willpower to go all the way," Muhammad Shabbir, the head of equities at Rasmala Investment Bank Ltd. in Dubai, said by telephone today. "This adds to the hope that the issue will be resolved."
The Shiite Houthis, aided by ousted former President Ali Abdullah Saleh, have taken over large swaths of Yemen in the past year, forcing Hadi to flee the capital, Sana'a. Saleh yesterday criticized Saudi Arabia for leading air strikes and sought a resumption of talks between all political parties under a UN or Arab League umbrella.
Index Leader
Jabal Omar Development Co., a Mecca-based property developer, led 159 advancers on Saudi Arabia's main equity gauge with a 5.7 percent jump. Three shares declined, while six were unchanged.
Al Rajhi Bank, which has the biggest weighting on the kingdom's index, climbed 1.3 percent, the steepest increase since March 3. National Commercial Bank rose 2.5 percent, the biggest gain in a week.
Arabtec Holding Co., the largest publicly-traded builder in the United Arab Emirates, was the biggest contributor to gains on Dubai's stock gauge, with a 3.6 percent jump. Emaar Properties PJSC, developer of Burj Khalifa, the world's tallest tower, increased 1.2 percent to 6.51 dirhams, the strongest level since March 24.
The DFM General Index has now dropped four weeks in a row and is on course for a second quarterly loss. The measure has fallen 8.9 percent this year.
Iran Deal
The QE Index rose 0.7 percent, and Bahrain's BB All Share Index climbed 1 percent. Kuwait's SE Price Index advanced 1.6 percent and Oman's MSM 30 Index gained 1.2 percent. Abu Dhabi's ADX General Index lost 0.1 percent. Egypt's EGX 30 Index added 0.1 percent.
Israel's TA-25 Index climbed 1.2 percent, the sharpest increase in a week, to 1,613.38. Osem Investments Ltd., the the Nestle SA-owned food maker, added 2.3 percent to 78.82 shekels, the strongest close since Oct. 6. The company reported 2014 profit of 396 million shekels ($99.7 million), compared with 276 million shekels a year earlier. Frutarom Industries Ltd., a producer of edible essences and oils, increased 3.6 percent as UBS AG raised its target price to 143 shekels from 133 shekels.
"The TA-25 Index is tracking gains in U.S. markets over the weekend," Steven Shein, a Tel Aviv-based trader at Psagot Investment House, said by phone. The S&P 500 Index and Dow Jones Industrial Average both gained on Friday for the first time in five days.
Iran's TEDPIX Index added 2.3 percent at the close, according to the stock exchange's website. Talks to end a nuclear dispute between the nation, which holds the world's fourth-largest oil reserves, and world powers continued for a fifth day in Lausanne, Switzerland, before a self-imposed deadline.
"Today's increase is higher than what we normally see and that is because of the talks and the perception that they're positive," Majid Zamani, the chief executive officer of Tehran-based Kardan Investment Bank, said by phone. "We have people right now who are keeping their money on the counter, waiting and ready to invest. It's a question of how and when the deal will be finalized now."
Before it's here, it's on the Bloomberg Terminal.
LEARN MORE