DreamWorks Posts Surprise Success With Rihanna's 'Home'
Anousha Sakoui and Jonathan N. Crawford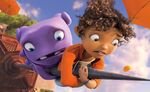 "Home," the latest feature from DreamWorks Animation SKG Inc., delivered $54 million in opening-weekend ticket sales, smashing expectations as families flocked to theaters.
The film, with Rihanna and Jennifer Lopez voicing major roles, outpaced the R-rated comedy "Get Hard," which took in $34.6 million at the U.S. and Canadian box office, according to Rentrak Corp. Neither "Home" nor "Get Hard," which stars Kevin Hart and Will Ferrell, were loved by critics. Each was forecast to earn about $30 million in its debut.
The strong opening for "Home" means Jeffrey Katzenberg's DreamWorks Animation will probably avoid the loss that some analysts raised concerns over ahead of the film's debut. The Glendale, California-based studio is going through a deep restructuring, involving job cuts and a reduction in the number of projects, after four of its previous six movies lost money. This time, DreamWorks and distributor 20th Century Fox took advantage of a lack of competition for family films.
"They had a movie that was filling a void in a marketplace that has been dominated by R-rated films since the beginning of the year," said Paul Dergarabedian, an analyst at Rentrak, by phone. "Families are always looking for reasons to go to the movie theater and there were very few of those this year. I thought it was a great performance."
Rihanna and Lopez, global pop stars with a combined Twitter following of almost 75 million, promoted the movie heavily to their fans.
Purple Alien
Rihanna provides the voice of Gratuity Tucci, or Tip, an adventurous girl who forms a friendship with a purple alien called Oh, voiced by Jim Parsons of "The Big Bang Theory." Lopez is Tip's mother, Lucy, and Steve Martin plays the alien leader Smek. The film, directed by Tim Johnson, is based on Adam Rex's popular children's book "The True Meaning of Smekday."
Reviews for "Home" were mixed, with 46 percent of critics voicing positive views, according to Rottentomatoes.com, which aggregates critics' comments. Audiences were more positive, with 69 percent saying they liked the film.
"Key characters are admirably diverse, but the fast-paced tale is thoroughly predictable," Claudia Puig wrote in USA Today.
With "Home" DreamWorks Animation had its biggest opening since "Madagascar 3: Europe's Most Wanted," which earned $60.3 million on its debut in June 2012, Dergarabedian said.
"Home" was forecast to earn $31 million, according to BoxOffice.com, which raised its estimate from $26 million last week. It cost $135 million to produce, according to the studio.
Paying Off
"This proves DreamWorks has not lost its mojo and its restructuring is going to pay off, particularly creatively," Chris Aronson, president of domestic distribution for 20th Century Fox, said in a telephone interview Sunday. With international sales the movie topped $100 million this weekend, according to a release from the distributor.
"Get Hard" was forecast to generate $30 million in ticket sales for Warner Bros. The comedy, which cost $40 million to make, according to Box Office Mojo, features Ferrell as James King, a millionaire hedge-fund manager convicted of fraud who has 30 days before his stint starts at San Quentin prison.
He turns to Darnell, a law-abiding owner of a small car-wash business played by Hart. King assumes Darnell has been to prison and will be able to prepare him for his 10-year sentence behind bars.
"Get Hard" has come in for criticism that its themes are racist and homophobic, with its central joke that King wants to avoid being sexually assaulted in prison.
"With Ferrell and Hart involved, it's probably impossible for anyone to completely resist their baser instincts to be amused by the patently offensive," Betsy Sharkey wrote in a review for the Los Angeles Times.
Weekend sales for the top 10 films gained 15 percent to $143.9 million from a year earlier, Rentrak said. Sales for the year to date increased 4 percent to $2.45 billion.
The following table has U.S. movie box-office figures provided by studios to Rentrak. The amounts are based on actual ticket sales for March 27-28, and estimates for Sunday March 29.
                     Rev.    Pct.             Avg./   Total
 Movie              (mln)    Chg. Theaters  Theater   (mln) Wks
================================================================
1 Home               54.0     --    3,708   14,563     54.0    1
2 Get Hard           34.6     --    3,175   10,901     34.6    1
3 Insurgent          22.1    -58    3,875    5,697     86.4    2
4 Cinderella         17.5    -50    3,815    4,591    150.0    3
5 It Follows          4.0  1,066    1,218    3,301      4.8    3
6 Kingsman Service    3.1    -34    1,785    1,709    119.4    7
7 Run All Night       2.2    -56    2,377      928     23.8    3
8 Second Best Exotic  2.2    -38    1,498    1,459     28.1    4
9 Do You Believe?     2.2    -40    1,356    1,586      7.1    2
10 Gunman, The        2.0    -59    2,816      726      8.8    2



Top 10 Films Grosses



   This Week     Year Ago      Pct.
     (mln)         (mln)       Chg.
===================================
    $143.9        $124.7      15.3



Year-to-date Revenue



     2015          2014
      YTD           YTD        Pct.
     (mln)         (mln)       Chg.
===================================
    $2,448        $2,353       4.0

Source: Rentrak Corp.