Hillary Clinton Fails to Turn Over New Benghazi Documents, Trey Gowdy Says
Billy House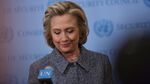 Former Secretary of State Hillary Clinton has failed to produce any new documents in response to a congressional subpoena related to the 2012 attacks on a U.S. diplomatic outpost in Benghazi, Libya, and has also wiped her e-mail server clean, said a Republican lawmaker.
Clinton, a potential Democratic presidential candidate, permanently deleted the e-mail after responding to an October 2014 request from the State Department to turn over government-related communications, said Representative Trey Gowdy, the chairman of a congressional panel investigating the attacks, in a statement Friday.
Clinton has faced weeks of questioning, and Republican scrutiny, over her exclusive use of private e-mail, and a server at her home, during her tenure as secretary of state from early 2009 to early 2013.
Gowdy and the committee were notified in a letter Friday from Clinton's lawyer, David Kendall, that the e-mail account she used while serving as the top U.S. diplomat had been wiped clean after she provided the State Department all of her work-related and potentially work-related emails.
"Not only was the secretary the sole arbiter of what was a public record, she also summarily decided to delete all e-mails from her server ensuring no one could check behind her analysis in the public interest," said Gowdy, of South Carolina.
Next Steps
Gowdy said his committee will work with House leaders as the panel considers next steps, which could include legal action against Clinton.
A Clinton spokesman, Nick Merrill, said in a statement that the State Department has been responsive to the committee and that Clinton's office has made clear that she wants her e-mails made public.
"She's ready and willing to come and appear herself for a hearing open to the American public," Merrill said.
Clinton's office said on March 10 that she gave 30,490 work-related e-mails to the State Department, which is reviewing them for public release. Another 31,830 e-mails that Clinton has said involved personal matters, such as her daughter's wedding planning or yoga routines, were deleted.
Clinton was secretary of state during the attacks that killed Ambassador Christopher Stevens and three other Americans.
Gowdy said lawmakers need to speak with Clinton about how she handled e-mail and her decisions on deleting some of it. Gowdy and other Republicans have said all relevant records are needed to reach conclusions about whether investigators looking into the attack on the U.S. consulate have what they need.
'Political Charade'
The top Democrat on the committee, Representative Elijah Cummings of Maryland, said the panel has already obtained Clinton's e-mail on Benghazi.
"It is time for the committee to stop this political charade and instead make these documents public and schedule Secretary Clinton's public testimony now," Cummings said in a statement.
Clinton has been under intense scrutiny from Republicans who suggest the State Department failed to protect diplomatic personnel. House Minority Leader Nancy Pelosi and other Democrats say the matter has been thoroughly investigated by previous and costly congressional inquiries. Those efforts have come up with nothing, the Democrats say, suggesting the Republican efforts are politically motivated.