Cameron Makes It Personal as He Slams Miliband to Tory Faithful
Svenja O'Donnell and Robert Hutton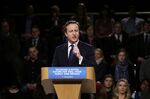 David Cameron set the tone of his Tory party's U.K. election campaign with an attack on Labour leader Ed Miliband and his "hopeless sneering socialists" alongside a pledge to deliver a seven-day-a-week National Health Service.
Speaking to activists in Manchester, northwest England, at his party's spring forum on Saturday, Cameron made a personal attack on Miliband as well as criticizing Labour's home-affairs spokeswoman, Yvette Cooper, and her Treasury counterpart, Ed Balls. He also promised he will offer voters daily access to specialist doctors in state-funded health care if the Conservatives win the general election on May 7.
"Frankly, I don't think Ed Miliband has it," the premier said to cheers from supporters. "Some might say 'don't make this personal,' but when it comes to who's prime minister, the personal is national."
With 40 days to go before the election, Cameron reiterated his party's message that a Labour government promises "a timetable for destruction" of Britain's economy. Labour, in turn, argues Tory policies only privilege the wealthiest. As well as the economy, state-funded health care has taken a key place in both parties' campaign pledges.
On current polling, neither the Tories nor Labour are on course to win a majority of seats in Parliament amid an increasingly fractured British political landscape, and both would have to rely on smaller parties to form a government.
Cameron promised that doctors working at the level of consultant would be available on weekends, as well as during the week. The pledge came a day after Miliband vowed to limit the margins that private companies can earn from the NHS and award them fewer contracts.
Weekend Deaths
"Illness doesn't respect working hours," Cameron said. "And the truth is that you are actually more likely to die if you turn up at the hospital at the weekend. Some of the resources are not up and running. The key decision makers aren't always there."
Mortality rates are currently 16 percent higher for people taken into hospitals on a Sunday than for those hospitalized on a Wednesday, according to the Tories.
Miliband said Friday Labour would impose a 5 percent profit cap on private companies working in the NHS, stop them "cherry picking" simple treatments and end their contracts if they fail to deliver high-quality care. The pledge wouldn't cover local doctors, who are all independent operators, or pharmaceutical manufacturers.
SNP Threat
Cameron's speech coincided with the start of the Scottish National Party's spring conference in Glasgow. The Tories have used the prospect of an alliance between Labour and the SNP, which polls suggest may gain dozens of Labour seats in Scotland, as one of their main lines of attack against Miliband.
"For every seat the nationalists take, that's an extra one to add to the 69 they need south of the border," Tory Chairman Grant Shapps said as he opened the forum, referring to the 69 districts Labour needs to gain for a parliamentary majority. "Their only route to power will be on Alex Salmond's coat-tails."
Salmond, the former SNP leader and Scottish first minister, is running for a House of Commons seat on May 7.
Cameron was briefly interrupted by a heckler -- an unusual occurrence in a speech to party faithful, and a reminder that Labour isn't the only large party to worry about losing seats to smaller opponents. The U.K. Independence Party, which campaigns to exit the European Union and against immigration, has lured Conservative voters and lawmakers to its ranks in recent years.
"I shouted 'you betrayed this country on Europe and immigration,'" said Mike Howson, 59, from Staffordshire, who described himself as a Tory party member but said he voted UKIP in the previous election in 2010. "I think he's a fudge leader, he hasn't addressed the most important issue this country faces."
Before it's here, it's on the Bloomberg Terminal.
LEARN MORE