S&P 500 Clings to Quarterly Gain After Worst Week Since January
Joseph Ciolli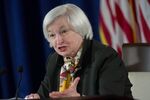 U.S. equities capped the worst week since January, with the Standard & Poor's 500 Index clinging to a ninth straight quarterly advance amid a run of futility not seen in 20 years.
The S&P 500 tumbled a week after it closed within 0.5 percent of an all-time high on speculation the Federal Reserve won't rush to raise interest rates. The gauge's 10 main groups retreated, with declines heaviest among the year's best performers. The index slid on all but the final day of the week, continuing a stretch of 28 days without a two-day rally, the longest drought since 1994, data compiled by Bloomberg show.
The S&P 500 dropped 2.2 percent to 2,061.02. The Dow Jones Industrial Average sank 414.99 points, or 2.3 percent. The Nasdaq Composite Index slumped 2.7 percent, the most since October, as a push to top its dot-com-era record stalled 10 points short. A Nasdaq index of biotechnology shares tumbled 5.3 from an all-time high. The gauge's worst week in a year trimmed its 2015 advance to 14 percent.
"We saw a strong rally in stocks last week, but this week there's been a more sobering approach," Chad Morganlander, a money manager at Stifel, Nicolaus & Co., which oversees about $170 billion, said in a phone interview. "The pendulum is now shifting away from stocks that had strong representation within the overall market for the last several years toward more low-momentum stocks and sectors."
With a gain of 0.1 percent in 2015, the S&P 500 is one of the worst performers among developed-nation stock markets. The benchmark U.S. equity index sits at a level it first reached on Nov. 21. Since then, stocks in the gauge rose as much as 2.6 percent to an all-time peak of 2,117.39 before sliding back to the current price.
Intel Takeover
The S&P 500 advanced 0.2 percent on the week's final day and the Nasdaq Composite jumped 0.6 percent after a report that Intel Corp. was in talks to buy Altera Corp. Intel erased its loss for the week on the news, while Altera surged 28 percent Friday, the most ever.
The gains helped pare losses in the worst week since October for the Philadelphia Stock Exchange Semiconductor Index, which tumbled 5 percent. Selling was sparked by analyst downgrades on concern that demand is flagging and a 26 percent plunge in SanDisk Corp. after it cut its sales forecast. Nvidia Corp. and Micron Technology Inc. each sank more than 7 percent.
Investors are also parsing data on economic growth for clues on the timing of the Fed's first interest-rate increase since 2006. Chair Janet Yellen said Friday at a conference in San Francisco that she expects the Fed to raise interest rates this year, and that subsequent increases will be gradual without following a predictable path.
Biggest Triggers
"Central banks still provide us with the biggest triggers," said Heinz-Gerd Sonnenschein, a strategist at Deutsche Postbank AG in Bonn, Germany. "Everybody is waiting to see what will happen when the Fed acts. U.S. data has been weaker than many had hoped. With so many questions, you wonder what will make people move into the market, given the S&P has given investors very little this year."
Data in the week showed the cost of living climbed 0.2 percent in February, while the biggest gain in consumer spending in eight years fueled a 2.2 percent expansion in the U.S. economy in the final three months of 2014.
The rate of economic growth will prove hard to replicate in the current quarter after harsh winter weather and a stronger dollar led to disappointing spending on the part of consumers and businesses. At the same time, profits for S&P 500 companies are forecast to decline for the first time since 2009.
Companies will see a contraction of 5.8 percent for the first three-months, analyst estimates show. Alcoa Inc. unofficially kicks off the earnings season when it reports first-quarter results on April 8.
Volatility, Financials
The Chicago Board Options Exchange Volatility Index surged 16 percent in the week, the most since Jan. 30.
All of the 10 S&P 500 groups fell at least 0.4 percent. Financial shares sank 3 percent, as American Express Co. slumped 5.7 percent even as Chief Executive Officer Kenneth I. Chenault told investors that the lender can overcome the end of partnerships with Costco Wholesale Corp. and JetBlue Airways Corp.
The Dow Transportation Average plunged 4.9 percent for the biggest loss since October. Kansas City Southern plunged 11 percent after the railroad operator reduced its forecast for revenue growth in 2015, citing currency headwinds and slower carload growth, primarily from the energy sector.
The Nasdaq Biotechnology Index rebounded 1.9 percent Friday to trim its weekly slide to 5.3 percent, the biggest in a year. Selling accelerated this week amid concern the gauge had rallied too far too fast. Its 21 percent gain in 2015 through March 20 outstripped the Nasdaq Composite's advance by 15 percentage points.
Short-Lived
Kraft Foods Group Inc. soared 44 percent to a record, leading gains in the S&P 500. The company will merge with H.J. Heinz in a deal orchestrated by 3G Capital and Warren Buffett's Berkshire Hathaway Inc., creating the third-largest food and beverage company in North America.
The S&P 500's four-day slide to start the week was the fourth time in 2015 the index has fallen three straight days or more. The gauge saw just 10 such streaks in all of 2014.
Still, declines have been short-lived in 2015. The S&P 500 fell more than 3.3 percent on two separate occasions in January, only to recover its full loss within a week both times. The benchmark gauge also slipped 3.6 percent in early March before climbing back within 10 points of its original level.
"We're looking at a market that hasn't made a lot of forward progress, but does not have a lot of downside potential," Bruce McCain, who helps oversee more than $25 billion as chief investment strategist at the private-banking unit of KeyCorp in Cleveland, said by phone. "We haven't seen indications of a broad topping or economic indications of the economy rolling over, just a slowdown."
Before it's here, it's on the Bloomberg Terminal.
LEARN MORE