Suspended SAA CEO Kalawe Said to Hire Friend, Waste Cash
Chris Spillane and Franz Wild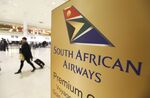 Specific allegations against South African Airways Chief Executive Officer Monwabisi Kalawe, who was suspended in October, include corruption, invasion of privacy and hiring a friend on an inflated salary, according to two people familiar with the disciplinary inquiry into his conduct.
Kalawe appointed a former colleague as an executive assistant on a salary more than double the amount earned by the previous employee, said the people, who asked not to be identified because the matter is confidential. The allegations are being put to Kalawe through an internal disciplinary process. Kalawe said by e-mail he couldn't immediately comment and referred a request for comment to his lawyer, Maurice Crespi.
"He has given SAA his response to the allegations," Crespi said by e-mail on Thursday. "If you want to know what his response is, you are welcome to speak to SAA and they must disclose to you such information as they deem fit. Nothing in this response should be taken as an implicit concession that our client would be unable to answer the imputations of improper conduct on the merits."
SAA, Africa's biggest airline by traffic, suspended Kalawe, who was appointed June 1, 2013. He's now in disciplinary hearings before an independent chairman, Nazeer Cassim, a senior member of the Johannesburg Bar, the carrier said in an e-mailed statement last month. A date for the completion of the disciplinary proceedings hasn't been announced.
'Technically Bankrupt'
Johannesburg-based SAA instituted a 90-day turnaround plan that ended March 24. The aim was to reduce costs as it seeks to cut reliance on state assistance following three consecutive years of losses. The company is "technically bankrupt" and is surviving off government-guaranteed loans, Public Enterprises Minister Lynne Brown said in October. SAA has since cut some routes including one to China.
"Given the sensitive nature of the process at this time, it would be inappropriate to comment on the matter," SAA spokesman Tlali Tlali said in an e-mailed statement on Friday.
Kalawe is also accused, in the internal disciplinary process, of wasteful expenditure and breaching the Public Finance Management Act for pushing for SAA to pay Bagport South Africa 400 million rand ($33 million) for a three-year contract to wrap luggage to reduce theft, the people said. The airline paid 26 million rand for a three-month trial, which appeared to be overpriced because it exceeded the compensation SAA was paying to customers for stolen or lost items, one of the people said. No charges against him have been brought before a court.
Privacy Invasion
While Kalawe was suspended for the initial allegations, he now also faces an allegation of corruption and invasion of privacy for paying 150,000 rand for forged bank statements in an attempt to show that Duduzile Myeni, the company's chairwoman, had received bribes, the people said.
The Sunday Times reported on its website on Feb. 28 that the bank statements were fakes, citing ENSAfrica, a South African legal firm. In the same report, SAA spokesman Tlali Tlali told the Johannesburg-based newspaper the documents had the "hallmarks of an elaborate conspiracy."
SAA said it speaks on behalf of its executives on business related matters such as the disciplinary inquiry.
Kalawe will remain suspended until the inquiry is completed, the board said last month.
Before it's here, it's on the Bloomberg Terminal.
LEARN MORE