Nigeria Braced for Vote Trouble as Buhari Contests Jonathan
Mike Cohen, Daniel Magnowski and Elisha Bala-Gbogbo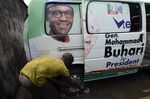 Nigerians are braced for trouble as voter registration began on Saturday for presidential and parliamentary elections after a fractious campaign dominated by a slowing economy and a war against Islamist militants.
Former military dictator Muhammadu Buhari, a 72-year-old northern Muslim who's lost three previous elections, is trying to end the reign of the People's Democratic Party, which has governed Nigeria since the end of army rule in 1999. Standing in his way is President Goodluck Jonathan, a 57-year-old Christian from the oil-rich Niger River delta in the southeast who defeated him four years ago.
"The opposition party has the edge because of the sheer frustration of Nigerians on the state of the economy, security, the unemployment situation," Anyakwee Nsirimovu, executive director of the Port Harcourt-based Institute of Human Rights and Humanitarian Law, said by phone on Friday. "There will probably be violence if the process does not go in accordance with people's expectations."
Nigeria is already contending with a plunge in the price of oil, its largest export, a weakening currency and attacks by the Islamist militant group, Boko Haram, that Human Rights Watch says have killed at least 1,000 civilians this year. The conflict prompted a six-week delay in the vote after the government said it needed time to subdue the insurgents.
Buhari's All Progressives Congress has painted Jonathan's government as corrupt, incompetent and a failure in dealing with Boko Haram. The administration has been unable to find more than 200 schoolgirls kidnapped by the group in the northeastern town of Chibok in April last year, and is relying on the armies of neighboring Chad and Niger to help fight the militants.
Rights Abuses
The PDP says Buhari is too old and human rights abuses were rife during his tenure as military ruler between 1983 and 1985.
"We should be more afraid of post-election violence than Boko Haram," Martin Ewi, a researcher at the Institute for Security Studies in Pretoria, said by phone on March 23. "This is one of the most hotly contested elections in Nigeria. The parties both have a strong belief that they will win. Whichever way the elections go, you expect to have violence."
Registration started at polling stations at 8 a.m. nationwide and voting will begin at 1:30 p.m., Kayode Idowu, a spokesman for the Independent National Electoral Commission in the capital, Abuja, said by phone.
At some polling stations INEC officials hadn't arrived on time to begin the registration process, including at Lugbe, a slum on the outskirts of Abuja.
"I can wait to midnight to vote if necessary," said Sunday Okwudili, a businessman who had been waiting outside the Ecwa church hall since 5 a.m. to get his voter number. "I'm supporting PDP. Jonathan has been doing a good job for Nigeria. Now, I want more job creation and improved power supply."
Tens of thousands of Nigerians have vacated regions of the country considered prone to unrest. Mass relocation first began three days ago and heightened on Friday as people returned home to vote, Jonas Agwu, commander of the Federal Road Safety Corps in charge of the capital, Abuja, and Niger state, said by phone.
Election Fears
The northeastern city of Maiduguri was among those that had experienced an exodus, said driver Abba Ibrahim.
"Many people have seen the love for Buhari here and they fear that should he lose in the election, the people might react violently" if they think the vote was rigged, Ibrahim, 45, said in an interview.
About 800 people were killed and at least 75,000 forced to flee their homes after Buhari lost elections in 2011. The authorities have closed land and sea borders until midnight on Saturday, and the army said it's ready to combat troublemakers by using "organized violence."
Whoever is inaugurated on May 29 must contend with an oil price that's fallen about 50 percent since June and the naira's 18 percent decline against the dollar in the past six months, the third-steepest drop among 24 African currencies tracked by Bloomberg. Nigeria, which pumped almost 2 million barrels a day last month, relies on crude for two-thirds of government revenue and 90 percent of its export income.
Economy Slowing
The International Monetary Fund cut its 2015 growth forecast for Nigeria to 4.8 percent this month, about half the average rate over the past 15 years.
The Independent National Electoral Commission has said it's done all it can to ensure the poll is credible. INEC said about 56 million of the 68 million registered voters have picked cards that will be screened by biometric readers to cut down of identification fraud.
To win, a presidential contender must take at least 50 percent of the total vote while winning a quarter of the ballots in a minimum of 24 of the 36 states. If none of the 14 candidates secure such a victory, a run-off would be held within seven days after the results are announced.
The PDP and APC each won 42 percent support in a poll of 2,400 adults conducted by Afrobarometer in December. The PDP won 58.9 percent of the vote in the last elections in 2011.
"Buhari has a firm grip on the north," Jideofor Adibe, senior political science lecturer at Nassarawa State University, in the city of Keffi, 60 Kilometers (37 miles) east of Abuja, said on Friday. "Theoretically you can say he has an advantage. But then there are advantages enjoyed by the president: the advantage of incumbency, the advantage of money, the advantage of playing up the fear factor."
Before it's here, it's on the Bloomberg Terminal.
LEARN MORE