Ministers Arrive at Iran Nuclear Talks in Search of Accord
Jonathan Tirone, Henry Meyer and Ladane Nasseri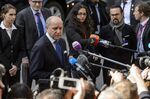 Foreign Ministers from France and Germany joined negotiators on the shores of Lake Geneva in a final push to reach an accord over Iran's nuclear work before an end-of-March deadline expires.
An official with one of the delegations negotiating with Iran said the probability of reaching a deal by Sunday was more likely than not. In Washington on Friday, White House spokesman Josh Earnest put the chance of success at 50:50.
French Foreign Minister Laurent Fabius and his German counterpart, Frank-Walter Steinmeier, will have a working lunch with U.S. Secretary of State John Kerry on Saturday in Lausanne, Switzerland. Kerry is also scheduled to negotiate with Iran's Foreign Minister Mohammad Javad Zarif.
"I have come here with the desire to move toward a robust agreement," Fabius told reporters before entering the Beau Rivage Palace, where negotiations are being held. "I hope we can achieve a result."
Diplomats have until March 31 to craft a framework agreement and June 30 to work out all the technical details of an accord. World powers are seeking constraints on Iran's nuclear capacity while the Persian Gulf country wants relief from sanctions that have battered its economy over the last decade.
The probability of striking a deal by Sunday has risen to more than 50 percent, according to an official of one of the six delegations negotiating with Iran. The official asked not to be identified in conformance with guidelines for discussing the negotiations.
Fordo Deal
Parties are close to an agreement on turning Iran's Fordo enrichment facility into a medical isotope production center, the official said. While Iran would be prohibited from enriching uranium at Fordo, centrifuges would be allowed to produce molybdenum and other isotopes, according to the official's account.
Iran's Deputy Foreign Minister Abbas Araghchi said a compromise had been reached over Fordo that would allow Iran to continue using the site, Japan's NHK television said, citing an interview with the official. No details were given.
"I am not a pessimist in this case and I keep my optimism and hope that we will be getting somewhere," Iran's top nuclear official, Ali Akbar Salehi, told reporters Saturday when asked whether technical hurdles could be overcome.
The talks are taking place 18 months after President Barack Obama and Iranian President Hassan Rouhani pledged in a phone call to try to end the nuclear dispute. On Wednesday, Rouhani said he wrote to Obama and leaders of the other five negotiating nations -- China, France, Germany, Russia and the U.K. -- urging them to overcome differences and make an accord possible.
Hopeful Sign
Rouhani's outreach was taken as a hopeful sign that an agreement is within reach, a U.S. official said late Friday, asking not to be identified in line with diplomatic rules. Talks aiming to bridge remaining disagreements continued to be tough and very serious, the official said.
Diplomats are still wrangling over how to define the accord and which details to release, three Western diplomats said on Thursday. While U.S. officials insist that any understanding needs hard numbers and details, the Iranian delegation prefers to hold off on specifics until the technical annexes of the agreement are finished, according to the officials.
"We're now beginning the end game of a long negotiation," Steinmeier said Saturday upon arrival at the talks.
Before it's here, it's on the Bloomberg Terminal.
LEARN MORE