Hyperion Could Be Next Pharma Target With Orphan Drugs: Real M&A
Brooke Sutherland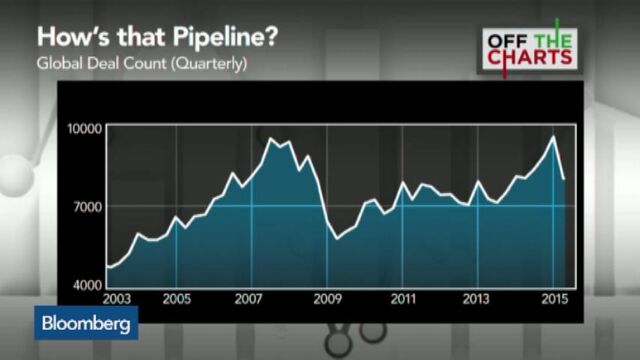 Hyperion Therapeutics Inc. could be the next target in what's already been a busy year for deals in the drug industry.
The $890 million company is one of the top providers of treatments for urea cycle disorders, rare metabolic diseases that can cause a build-up of ammonia in the body. Shares of Hyperion have already almost doubled this year, in part because of takeover speculation. Pharmaceutical giants have turned a hunt for fast-growing orphan and rare-disease drugs into a buying frenzy.
"It makes perfect sense for this company to be acquired," Difei Yang, a New York-based analyst at Brean Capital LLC, said in a phone interview. "Orphan drugs clearly have been chased after by many acquirers and Hyperion is sitting in the right spot."
The market opportunity for Hyperion's urea cycle disorder treatments may be about $300 million, or almost triple the revenue that the company brought in last year, according to Debjit Chattopadhyay of Roth Capital Partners LLC. He estimates a takeout valuation of as much as $60 a share if Hyperion is bought in the next year, or about a 40 percent premium to Friday's closing price. Potential buyers could include Shire Plc and Valeant Pharmaceuticals International Inc., he said.
Big Start
Any deal would add to what has already been the biggest start to the year for pharmaceutical and biotechnology takeovers since 2009, according to data compiled by Bloomberg. Major acquisitions have included AbbVie Inc.'s $21 billion bid for cancer treatment developer Pharmacyclics Inc. and Pfizer Inc.'s agreement to buy injectable-medicine maker Hospira Inc. for about $17 billion.
Hyperion is preparing to start a phase 3 trial to test whether its ammonia-scavenger drug Ravicti can also treat hepatic encephalopathy, a neurological condition that affects patients with liver cirrhosis. Salix Pharmaceuticals Ltd.'s Xifaxan can be used to treat the same ailment so Valeant, which struck a deal for Salix this month, could go after Hyperion as well, said Yang of Brean Capital. Endo International Plc, which lost out in the bidding for Salix, could also be interested, she said.
Myesha Edwards, a representative for Brisbane, California-based Hyperion, declined to comment on whether the company has been approached by suitors. Laurie Little of Valeant said the company doesn't comment on speculation, while representatives for Endo and Shire didn't respond to requests for comment.
Two Markets
Buyers focused on rare diseases would be more interested in the urea cycle disorder drugs, whereas a company such as Valeant, which will have a broader gastrointestinal portfolio, could see the opportunity in the hepatic encephalopathy market, said Roth Capital's Chattopadhyay. Hyperion will likely only get more expensive as it becomes more established in both markets.
"From a strategic standpoint, the acquirer should buy the asset earlier rather than later," Brean Capital's Yang said.
An alternative for Hyperion would be to merge with a similar-sized rare disease drugmaker, such as Raptor Pharmaceutical Corp., said Liisa Bayko, an analyst at JMP Securities, a unit of JMP Group.
Raptor's drug Procysbi is approved to treat nephropathic cystinosis, a rare metabolic disorder. The $830 million company is also testing use of the medicine for Huntington's disease and pediatric non-alcoholic steatohepatitis, caused by the buildup of fat in the liver. A representative for Novato, California-based Raptor said the company doesn't comment on speculation.
"That would be very complementary" to Hyperion, Bayko said. "They're very similar stories in a lot of ways so that's something that could make a lot of sense."
Before it's here, it's on the Bloomberg Terminal.
LEARN MORE