Hole-in-Three for Baddeley With 336-Yard Ace After Errant Drive
Michael Buteau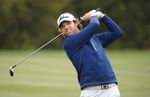 Aaron Baddeley made a rare hole-in-three, using a driver to hit his golf ball 336 yards into the hole in yesterday's first round of the U.S. PGA Tour's Texas Open.
The Australian hit his first tee shot into trees on the left side of the par-4 17th hole, forcing him to take a penalty stroke and hit a second ball.
"I hit the second one and said, man, why didn't I do that the first time?" he said after the round. "And it rolls up and goes in."
After the unexpected birdie, Baddeley parred the 18th hole when he sank a shot from the edge of the green and finished the day at 4-under, one shot back of first-round leader Charley Hoffman.
Before it's here, it's on the Bloomberg Terminal.
LEARN MORE