Here's Where All the Money Came From for the Rally in Biotechs
Joseph Ciolli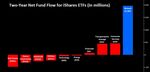 One thing the almost 500 percent rally in biotech stocks hasn't lacked is cash.
The iShares Nasdaq Biotechnology ETF has attracted $2 billion of fund flows in the past two years, this chart shows. That's the most out of the 29 U.S. stock sector funds run by iShares and more than three times the firm's next-most popular industry ETF, according to data compiled by Bloomberg.
The iShares ETF tracks the Nasdaq Biotechnology Index, which has climbed almost six-fold during the six-year bull market. Money that comes into the market through passive investment vehicles like ETFs can go out just as fast, says Walter Todd of Greenwood Capital.
"When you start to see a selloff, that money that came in is the first to flow out," Todd, who oversees about $1 billion as chief investment officer for Greenwood, South Carolina-based Greenwood Capital, said in a phone interview. "People are using ETFs because they don't know the companies individually and just want broad exposure."
Cash seepage happened in the last few days as the security saw its biggest weekly retreat since March 2014, falling 5.2 percent. Investors withdrew more than $420 million between Monday and Thursday, the most since last April, according to Bloomberg data.
The biotechnology sector is "nearing bubble-like valuations," a group of Bank of America Merrill Lynch strategists led by Steven DeSanctis wrote in a note to clients on Friday. Shares in the group trade at 402 times their reported earnings, compared with 29 times for stocks in the Nasdaq Composite Index, Bloomberg data show.
Before it's here, it's on the Bloomberg Terminal.
LEARN MORE