politics
Harry Reid's Best Disses
The minority leader has a reputation for being blunt, sometimes overly so. Here are some of the most memorable Reidisms.
By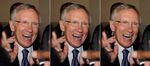 If you listened closely, you might have been able to hear the sound of millions of Republicans cheering the news of Senate Minority Leader Harry Reid's retirement Friday morning. Over his nearly 30 years in the Senate Reid has gained a reputation for being a skilled tactician and a back room brawler. As Hillary Clinton said in a 2006 story on Reid's aggressive persona, "People can say he is a nice guy, but that just totally misses it."
Reid is also known as someone prone to speaking his mind, even when he should perhaps keep his thoughts to himself. That quality has lead to gaffes and inappropriate comments, but Reid has also given us some of the most bluntest political jabs of the last decade. Depending on one's political beliefs, what follows is either a list of Reid's best moments calling it like he sees it, or a collection of partisan blunders—he's apologized for a few of these comments—but, for better or worse, they're always memorable.
"Senate Republicans are addicted to Koch"
Last March, as ads paid for by Koch-backed groups like Americans for Prosperity pummelled Democrats ahead of the midterm election, Reid gave a long speech in which he called the Koch brothers "un-American...shadowy billionaires" and criticized their defenders in the GOP. "And the Koch brothers are returning the favor with huge donations to Republican Senate candidates," Reid said. "Senate Republicans, Madam President, are addicted to Koch" (pronounced "coke"). 
"You could literally smell the tourists"
When the Capitol Visitors Center opened in late 2008, no one was happier than Reid:
This facility here is, um, really terrific for lack of a better way to describe it. My staff has always said 'don't say this' but I'm going to say it again because it's so descriptive because it's true. Leader Boehner mentioned that tourists lined up in summer and winter—long lines coming into the Capitol. In the summer because the high humidity and how hot it gets here, you could literally smell the tourists coming into the Capitol. And that may be descriptive but it's true.
"I think this guy is a loser"
In May 2005 a reporter asked Reid what he thought of President Bush's policies. "The man's father is a wonderful human being," Reid said, according to The Washington Post. "I think this guy is a loser." Reid later called the White House to apologize.
"He has been an embarrassment"
In November 2004, Reid said that he could possibly live with the Supreme Court's Antonin Scalia becoming Chief Justice, but not Clarence Thomas. When "Meet The Press" host Tim Russert asked him why a month later, he replied: 
I think that he has been an embarrassment to the Supreme Court. I think that his opinions are poorly written. I don't—I just don't think that he's done a good job as a Supreme Court justice.
"President Bush is a liar"
In the same December 2004 "Meet The Press" interview, Russert noted that Reid had recently said: "President Bush is a liar. He betrayed Nevada and he betrayed the country."
Russert asked Reid if he felt that was "appropriate rhetoric." Reid said he didn't know, but "[t]hat's how I feel, and that's how I felt ... people may not like what I said, but I said it, and I don't back off one bit."
"His poor father must be so embarrassed"
During a July 2012 interview with The Huffington Post, Reid criticized Romney's lack of financial transparency, and argued that Romney wouldn't make it through a Senate confirmation hearing because of his unwillingness to disclose his financial information. When George Romney ran for president in the 1960s he released 12 years of tax returns. "His poor father must be so embarrassed about his son," Reid said. 
Reid added that an anonymous Bain investor told him that Mitt Romney hadn't paid taxes for 10 years. (Politifact rated the 10 years claim "pants on fire" false.) "He didn't pay taxes for 10 years! Now, do I know that that's true? Well, I'm not certain," said Reid. "But obviously he can't release those tax returns. How would it look?" 
"Schoolyard bully"
In May 2013, Reid took to the Senate floor to criticize Texas Republican Senator Ted Cruz for blocking an effort to reconcile the House and Senate versions of the budget.
"My friend from Texas is like the schoolyard bully," Reid said. "He pushes everybody around and is losing, and instead of playing the game according to the rules, he not only takes the ball home with him but changes the rules. That way no one wins except the bully who tries to indicate to people he has won."
"I wasn't aware we were in a schoolyard," Cruz said in response.
"I can't stand John McCain"
When Democratic Connecticut Senator Joe Liebermann agreed to speak at the 2008 Republican convention, Reid noted that Liebermann was close to Senator John McCain.
"He has a close personal relationship with John McCain. I don't fully understand why he does," Reid told the Las Vegas Review Journal. "I told him last night, 'You know, Joe, I can't stand John McCain.' He said, 'I know you feel that way.'"
"With all due respect to my friend John McCain"
In September 2008, when Senator McCain announced that he was leaving the campaign trail and skipping a presidential debate to help with the Wall Street bailout bill, Reid accused McCain of pulling a stunt for a political photo-op. "It appears to me John McCain is trying to divert attention to his failing campaign," said Reid. "He can spare an hour and a half of his time and participate in that debate." According to ABC News, Reid added:
"With all due respect to my friend John McCain," said Reid — showing not a great deal of respect for a man who is not necessarily his friend — "we're doing just fine. This should not have presidential politics doing here."
"That's a clown question, bro"
After the Washington Nationals' outfielder Bryce Harper responded to a reporter with "that's a clown question, bro," it was inevitable that some Hill reporter would get the same treatment from a politician. As the Atlantic noted at the time, it wasn't "fratty" Representative Aaron Schock or "wannabe hipster and White House Press Secretary Jay Carney" (note: a lot has changed since 2012).
It was Reid, after Roll Call's Steven Dennis asked him if he thought then-Minority Leader Mitch McConnell was waiting for Republican presidential nominee Mitt Romney to weigh in on the Deferred Action for Childhood Arrivals immigration order before commenting. 
"I don't want to answer that question," Reid said. "That's a clown question, bro."
Where's your quarterback, GOP?
In December 2012, Reid said that he'd recently had fun watching the organisational problems of the New York Jets who "can't decide who their quarterback is going to be. That's the same problem Republicans have." Reid argued that it was either Mitt Romney, who'd just lost the election, Speaker Boehner, or then Senate Minority Leader Mitch McConnell.
"I hope you go out of business" 
During a meet-and-greet at a Las Vegas Chamber of Commerce event in August 2009, Reid met Bob Brown, the director of advertising for the right-leaning Las Vegas Review-Journal. As an outraged Review-Journal columnist reported later, that's when Reid made the offending remark. Later, Reid clarified he was kidding, in the sense that he wanted the Review-Journal to stay in business since it also distributed the more liberal Las Vegas Sun. 
Before it's here, it's on the Bloomberg Terminal.
LEARN MORE