Billionaire Bollore Raises Vivendi Stake to More Than 10%
Marie Mawad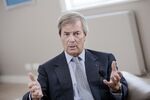 Vivendi SA Chairman Vincent Bollore boosted his holding in the company to more than 10 percent as a clash with Wall Street activist investor Peter Schoenfeld escalated.
The French billionaire raised his stake to 10.2 percent from 8.15 percent by buying shares on the market, according to holding company Groupe Bollore. That stake has a market value of about 3.1 billion euros ($3.4 billion). It's the second time this month that the businessman reports an increase in his holding in the Paris-based music and television company.
The 62-year-old is at the center of questions about how Vivendi plans to spend its cash pile after disposing of more than $30 billion of telecommunications assets to refocus on media. Bollore, which has hinted at acquisitions, is facing calls by Schoenfeld, the founder of New York-based hedge fund P. Schoenfeld Asset Management LP, to return 9 billion euros to shareholders.
P. Schoenfeld Asset Management, with a 0.8 percent stake in Vivendi, is among investors who have submitted proposals for the company's April 17 shareholder meeting. Investors are set to vote on Vivendi's own cash use plan, as well as Schoenfeld's. Bollore has urged shareholders to reject Schoenfeld's proposal.
In a letter posted on its website Friday, Vivendi issued a warning to P. Schoenfeld Asset Management.
French Warning
Citing French law, the owner of pay-TV unit Canal Plus said any investor or group of investors that isn't based in the European Union isn't allowed to own more than 20 percent of a broadcasting company, whether through a direct or indirect holding.
Vivendi said it "would be forced to promptly bring legal action" should its TV assets be exposed to government backlash -- including losing its broadcasting license -- as a result of a change in its own ownership. Damages could reach as much as 9 billion euros, Vivendi said, citing consultant estimates.
In a response statement, P. Schoenfeld Asset Management said Vivendi's letter appears to be an act of intimidation.
"We consider this behavior totally unacceptable," the investor said. "In addition, we wonder whether you are also attempting to intimidate other shareholders who are willing to support our resolutions."
Bollore has steadily increased his influence over Vivendi since he traded his TV channels for shares of the media company and became an investor in 2012. He is France's ninth-richest person with a net worth of $6.1 billion, according to the Bloomberg Billionaires Index.
Bollore's holding company this week also cut its stake in advertising group Havas SA to 60 percent from 82.5 percent, in a move it said is meant to improve the shares' liquidity.
While Vivendi could offer significant cash returns, there's "too much uncertainty" over Bollore's intentions to know for sure, analysts at Liberum said this week in a note.
Before it's here, it's on the Bloomberg Terminal.
LEARN MORE