Cubs Fan Finds Hope Thanks to Owner's Deep Pockets
Rob Gloster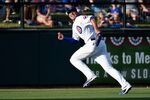 Sports Line colleague Phil Revzin, a native Chicagoan, has something rare for a Cubs fan: hope. He brought it with him on a spring training visit and sent back a personal assessment of this year's trendy pick to win the World Series:
"Sloan Park in Mesa, Arizona, is packed with more than 15,000 fans to watch two of the most hopeful teams in baseball, the Chicago Cubs and San Diego Padres, both of which invested heavily this year in new players and facilities.
``The buzz among Cubs' faithful is that a crop of young sluggers, plus a $155 million pitcher and a $25 million manager, will help the franchise win the World Series for the first time since 1908.
``It's all part of the plan by the Ricketts family, the TD Ameritrade founders who bought the Cubs for about $900 million in 2009 and are plowing $575 million into renovating 100-year-old Wrigley Field by 2018. They've put giant video boards in the outfield, are adding a hotel, are rebuilding the bleachers and hired Theo Epstein, who brought two championships to Boston after an 86-year dry spell. Epstein has stocked the Cubs' minor-league system with well-regarded prospects, signed free-agent pitcher Jon Lester to a six-year, $155 million contract and hired manager Joe Maddon from the Tampa Bay Rays.
``The on-field plan depends on two 25-year-old All-Stars, first baseman Anthony Rizzo and shortstop Starlin Castro, to be joined by any or all of a crop of under-25s. If you start seeing in daily summaries game-winning hits by Alberto Almora, Javy Baez, Addison Russell, Arismendy Alcantara, Jorge Soler and Kris Bryant, the plan is working. So too, if Lester leads a revived pitching staff.
``The biggest hope of all lies with Bryant, a third baseman hitting .464 this spring with nine home runs. There's talk the Cubs will keep him in the minors for a couple of weeks at the beginning of the season, a move already lambasted by his agent, Scott Boras. The deal in question would be made in either 2020 or 2021; having Bryant start the season in the minors enables the Cubs to postpone it to the later year and save the team as much as $30 million. My late mother, an ardent fan, would say when confronted with such a long-off issue: 'We should all live so long.'
``If, like me, you are a lifelong Cubs fanatic on the wrong side of 50, there's a sense of urgency. There have been plans before, and five straight years of last-place finishes. Hall of Famers Ron Santo, Billy Williams, Ferguson Jenkins, Ryne Sandberg and Greg Maddux brought no championships. Recent editions have been dire. An older fan strolls Sloan Park wearing a blue T-shirt emblazoned with the Cubs logo and the words: 'This Team Makes Me Drink.' Another reads: 'Just One Before I Die.'
``Sensible baseball fans lose perspective this time of year when all the teams are in first place. It's happening in Washington and San Diego, and with Chicago's South Side White Sox. Still, hope has been as rare as pennants on the North Side, and we'll take any omen. Some say Mr. Cub, Ernie Banks, who died at 82 this year, will be supervising matters from above.
``A few years ago, my daughter and I attended an early season Cubs game against the St. Louis Cardinals at Wrigley Field. The ivy on the outfield walls was just beginning to fill in from brown to green. After Alfonso Soriano won the game with a three-run homer, as the seagulls off Lake Michigan hovered and dusk descended, 40,000 people sang the team's unofficial anthem, 'Go Cubs Go,' creating a gentle wall of sound. A St. Louis Cardinals scout sitting next to us behind home plate gazed around with a beatific look on his face.
``Groundskeepers say the ivy always turns bright red in October, although nobody ever sees it. If the grand plan works, Epstein will never have to pay for a drink in Chicago again, and the Ricketts family will have won another bet. And 40,000 fans will be singing in the October night, the bright red ivy their backdrop.
``We should all live so long.''
***
The Arizona Wildcats and Wisconsin Badgers are back in southern California and in the West regional final of the NCAA men's basketball tournament for the second straight year, and are hoping things are a little less shaky than their last visit.
Arizona and Wisconsin had won their round of 16 games last year in Anaheim, California, and were preparing for their regional final showdown when a magnitude-5.1 earthquake rolled through the area on the off-night between games.
This year, they're a few miles north in downtown Los Angeles, and their memories of 2014's trip haven't faded.
"I got up and ran to the door and put my hands on it, and I just stood there. I didn't know what else to do until it stopped," said Arizona senior guard T.J. McConnell. "I'd never experienced an earthquake, and I hope I don't have to experience it ever again."
"My bed started shaking," Wildcats sophomore forward Rondae Hollis-Jefferson told reporters. "I got up so fast and ran downstairs, I didn't know what else to do. But I ran really fast and my mom was here, so I was looking for her."
Wisconsin defeated Arizona 64-63 the following day to reach the 2014 Final Four. The Badgers and Wildcats will play this Saturday for a spot in the 2015 Final Four.
***
One problem for coaches at the NCAA men's basketball tournament is coming up with material during commercial breaks, which are longer than those during the regular season.
"If you're a fan at home watching, the commercials go on and on," North Carolina's Roy Williams told reporters Wednesday at the West regional in Los Angeles. "What the heck am I supposed to say for two minutes and 25 seconds?"
Quite often, Williams said, he runs out of things to tell his players during the timeouts.
"I usually spend that time making the officials and TV people mad because I send my players out there on the court, because I don't have anything else to say to them," he said.
***
- Simona Halep won the women's title at the BNP Paribas Open tennis tournament Sunday in Indian Wells, California, but was no match for the winner's trophy. Asked by photographers to lift the 38-pound (17-kilogram) Baccarat crystal trophy during her champion's news conference, the 132-pound Romanian failed several times. "It's very heavy," she explained.
- The Golden State Warriors lead the NBA in both shooting percentage (47.9 percent) and opponents' shooting percentage (42.4 percent) with 11 games remaining in their regular season. The last team to lead the league in both categories for an entire season was the Julius Erving-led Philadelphia 76ers of 1980-81.
- When Geno Auriemma's Connecticut Huskies and C. Vivian Stringer's Rutgers Scarlet Knights played Monday night in the second round of the women's NCAA basketball tournament, the two coaches combined for the most wins ever in an NCAA tournament game -- men's or women's. Stringer entered the game with 952 wins and Auriemma had 912 for a total of 1,864 victories. Auriemma's Huskies won 91-55, giving him 913 career wins.
Before it's here, it's on the Bloomberg Terminal.
LEARN MORE