Americans Begin to Shake Off Winter Blues on Wage Prospects
Shobhana Chandra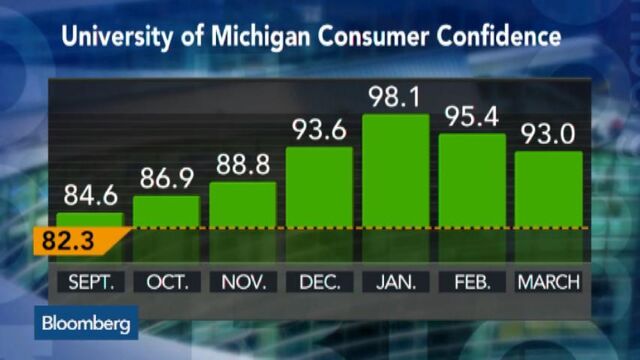 Americans have started to put the winter blues behind them.
The University of Michigan's consumer sentiment index in March capped the strongest quarter since 2004, coming in at 93 for the month. That was higher than forecast, although down from February's reading of 95.4. The median projection in a Bloomberg survey of economists called for 92 after a preliminary reading of 91.2.
Much of the setback in confidence from February was due to less optimism among lower-income households, those most affected by bigger utility bills after colder weather the month before. The report Friday also showed younger and higher-income earners are growing more upbeat about the prospects for wages, a sign spending may pick up.
"Overall this is a good reading," Richard Curtin, director of the Michigan Survey of Consumers, said on a conference call after the release. Wage-growth expectations are "starting to spread and broaden. It certainly will support expanding consumer expenditures."
The University of Michigan's gauge averaged 95.5 from January through March, the highest since the third quarter of 2004. Estimates in the Bloomberg survey of 64 economists for the final March reading ranged from 91 to 94. In January, it reached 98.1, the highest since the start of 2004.
The Michigan measure corroborates the Bloomberg Consumer Comfort Index, which last week matched the second-highest level since July 2007. The gauge rose to 45.5 in the period ended March 22 from 44.2 the prior week.
Stocks Advance
An end-of-day rally in semiconductor stocks spurred by takeover speculation helped send the Nasdaq Composite Index to its first gain of the week, cushioning stocks from comments made by Federal Reserve Chair Janet Yellen. The Nasdaq Composite climbed 0.6 percent, while the Standard & Poor's 500 Index rose 0.2 percent to 2,061.02 at the close in New York.
"I expect that conditions may warrant an increase in the federal funds rate target sometime this year," Yellen said Friday in remarks prepared for delivery in San Francisco. She and fellow policy makers "generally anticipate that a rather gradual rise in the federal funds rate will be appropriate over the next few years."
The Michigan sentiment survey's current conditions index, which takes stock of Americans' views of their personal finances, cooled to 105 from the prior month's 106.9. The measure of expectations six months from now decreased to 85.3 from 88.
Weather Effect
Budgets for some Americans, especially those living in the eastern U.S., took a hit this month from higher heating bills. Some 23 states had a top-10 coldest February and nine had their second-coldest, according to the National Oceanic and Atmospheric Administration. Residents in Chicago and Cleveland observed record-low February temperatures.
"The January surge in confidence was partly due to falling gasoline prices and the small retreat since then was partly due to the unusually harsh winter," Curtin said in a statement. "Importantly, most of the recent variation was among lower-income households, whose budgets are more sensitive to higher utility costs and disruptions in work hours."
Colder weather and snow in some regions also may help explain the slowdown in retail sales so far in 2015 after fourth-quarter consumer spending showed the biggest gain in eight years. Household consumption climbed at a 4.4 percent annualized rate from October through December, helping the economy expand 2.2 percent, according to Commerce Department data on Friday.
First Quarter
The rate of economic growth probably slowed this quarter as the weather, a stronger dollar, a West Coast port slowdown and a global oil glut translate into disappointing spending on the part of consumers and businesses.
"The consumer is still going to hold up," said Jacob Oubina, a senior U.S. economist at RBC Capital Markets LLC in New York, which correctly forecast gross domestic product. "As we look toward the middle of the year, you have a consumer that continues to see aggregate income growth."
Curtin at the University of Michigan said the latest survey showed spending gains will be paced by younger Americans and by households with incomes in the top third. While the median projection for wage growth was 1.4 percent, those under the age of 45 anticipate a 3.1 percent increase in the year ahead.
Income Expectations
"The broadening of positive income expectations is certainly a good indication of spending," Curtin said in the statement.
Average hourly earnings were up 2 percent over February 2014, matching the increase on average since the expansion began in mid-2009, according to Labor Department data.
In an effort to reduce turnover and cope with an increasingly competitive labor market, Wal-Mart Stores Inc., the largest U.S. discount chain, revealed plans in February to boost hourly pay. Target Corp. may follow.
Restaurant chain Denny's Corp. is among companies attributing some of their sales momentum to household sentiment and increased hiring.
"Consumer confidence and employment are the two strong drivers to dine-out traffic," Chief Executive Officer John Miller said during a conference presentation on March 24. "If you're employed, you have disposable income, you tend to eat out."
Gasoline Prices
While gasoline prices have climbed from a six-year low of $2.03 a gallon on Jan. 25, the nationwide average of $2.43 on Thursday was little changed from the end of February, according to figures from the motoring group AAA.
Americans expect the inflation rate in the next year will be 3 percent, compared with 2.8 percent in February, according to the University of Michigan's report. Over the next five to 10 years, they expect a 2.8 percent rate of inflation, compared with 2.7 percent in the previous month.
More people also are finding work. Employers added 295,000 workers in February, the 12th straight month payrolls have increased by at least 200,000, Labor Department data showed on March 6. The unemployment rate fell to 5.5 percent, the lowest in almost seven years.
"The consumer is feeling a little bit better," said Kathleen Bostjancic, a financial-market economist at Oxford Economics in New York. "A big factor in that is employment growth. Gasoline prices have stabilized. All this gives households a higher propensity to spend."