BlackBerry's Chen Says Sales Are Bottoming Out in Turnaround
Gerrit De Vynck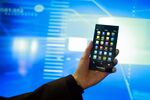 BlackBerry Ltd. Chief Executive Officer John Chen said revenue is nearing a bottom as he proceeds with his turnaround, including selling more software to professional customers.
The company reported Friday a surprise fourth-quarter profit of 4 cents a share after cutting costs, while sales slid 32 percent to $660 million from a year earlier. Three years earlier, BlackBerry posted revenue of more than $5 billion.
Sales won't drop as low as $500 million, Chen told journalists Friday at BlackBerry headquarters in Waterloo, Ontario. "My priority now is to stabilize the revenue," he said.
The former leading smartphone maker, whose global market share has fallen to less than 1 percent, plans to make more acquisitions to help boost software revenue to $500 million by March 2016, Chen said. Last year, it bought Secusmart, an anti-eavesdropping technology maker, to attract customers demanding rigorous security.
"We feel quite comfortable we will have growth in software," Chen said. Revenue will ramp up in two or three quarters as more carriers sign on and distribute BlackBerry devices and software, he said earlier on a conference call.
BlackBerry is working to steady device sales while it builds out the software unit. Since September, it has unveiled three new phone models -- the Leap, the Passport and the Classic -- and plans more this year.
Shares of BlackBerry rose 1.7 percent to $9.46 at the close in New York. They have dropped 14 percent this year.
Chen's Turnaround
Chen, who took over in November 2013, has also opened the company's device-management service to non-BlackBerry phones, and is expanding software offerings and applications for business customers using iPhones, iPads or Android devices.
The earnings gain in the fourth quarter beat analysts' projections for a 4-cent-a-share loss, the average of 27 estimates compiled by Bloomberg.
Revenue from devices still accounted for 42 percent of sales during the quarter. About 1.6 million BlackBerry smartphones were sold to customers, at an average price of $211, compared with $180 in the previous quarter. Chen said his target is to sell 10 million phones this year, though the unit could still be profitable if the company sells fewer.
Software revenue accounted for 10 percent of the total at $67 million, up 20 percent from a year earlier.
Last month, BlackBerry began charging customers who had upgraded to its latest device-management software, known as BES12, under a free program. The company hasn't gotten any negative feedback on BES12, Chen said on the conference call, addressing concerns raised by analysts about a possible slowdown in demand.
BlackBerry cut costs such as research and development, with total operating expenses at $424 million, down more than 60 percent from a year earlier.
Before it's here, it's on the Bloomberg Terminal.
LEARN MORE