Amanda Knox's Former Boyfriend Distances Himself Before Verdict
John Follain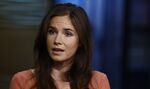 Lawyers for Raffaele Sollecito tried to distance him from his former girlfriend Amanda Knox before a possible final verdict by Italy's top court for the 2007 killing of British student Meredith Kercher.
Sollecito, 31, is "someone pure who sees himself dragged into things he doesn't understand, like Forrest Gump," his lawyer Giulia Bongiorno said in final arguments at the Rome courthouse earlier Friday, before judges convened to deliberate.
In their appeal to the court, Sollecito's lawyers urged judges to treat his case separately from the 27-year old Seattle native. Bongiorno insisted that her client had been convicted because of a "scientifically unreliable" DNA sample on Kercher's bra clasp and "the fact that he had been Amanda Knox's boyfriend for ten days."
In a legal odyssey full of twists and turns, Sollecito and Knox, have been convicted, acquitted and convicted again. Italy's top court is due to rule in a few hours on whether to uphold the convictions or order a new trial. A guilty verdict could trigger an extradition battle with the U.S. for Knox, who has lived in Seattle since her 2011 acquittal.
The half-naked body of Kercher, a 21-year-old Leeds University exchange student, was found on Nov. 2, 2007, in her bedroom in the cottage she shared in Perugia with Knox and two other women. Her throat had been cut. The latest verdict last year by an appeals court in Florence sentenced Knox to 28 1/2 years in prison for murder and slander, and Sollecito to 25 years. Both Knox and Sollecito have denied any wrongdoing.
Sollecito has remained in his native Italy since the acquittal and risks immediate arrest in case of a conviction, according to his lawyer Luca Maori.
The possibility that the court will uphold Knox's conviction while ordering a retrial for Sollecito seems ''very unlikely,'' Knox's lawyer Luciano Ghirga told Bloomberg on the sidelines of the hearing.
Before it's here, it's on the Bloomberg Terminal.
LEARN MORE