Yale Stepping Up Computer Science After Students Demand Better Tech Training
John Lauerman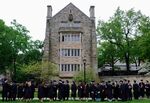 Yale University said it will expand its computer science department after years of student and faculty complaints that the Ivy League school had fallen behind rivals.
Yale will add seven professors over the next few years, bringing the size of the department to 26, the school said. Two anonymous donors will partly fund the new positions.
Colleges across the U.S. are competing to excel in the fast-growing and lucrative field and are eager to replicate the success of schools such as Stanford University, birthplace of search company Google Inc. Even the wealthiest colleges, such as Yale, with an endowment of $23.9 billion, are struggling to retool.
"Increasingly, the skills at the heart of computer science are the means by which we move ideas forward in today's world," Yale President Peter Salovey said in a statement. "We are acknowledging the vital importance of those skills."
More than 1,000 Yale students and alumni signed a petition over the past month complaining its computer science "faculty shortage" is holding back teaching and research at the New Haven, Connecticut, school. The college's computer-science faculty is about the same size as it was three decades ago, yet it has 181 undergraduate majors -- about four times as many as in 2010, Bloomberg reported earlier this month.
Harvard Import
This fall Yale will import Harvard's most popular course, an introductory programming class called CS50 -- a move the department called innovative while students have characterized it as humiliating.
The expansion "comes as a huge relief to a lot of CS students," said Mohan Yin, a junior majoring in computer science who signed the petition. "It seemed like the program was kind of in dire straits until this announcement."
Tamar Gendler, dean of the faculty of arts and sciences since July, said the expansion is among her top priorities.
"This is a great first step," Joan Feigenbaum, who heads the school's department and has been calling publicly for more faculty, said in an e-mail. "Yale's CS department will still be small after this initial growth spurt, and it will be important to sustain growth."
Computer science will also become part of Yale's School of Engineering & Applied Sciences. Yale will build an underground concourse that will connect the computer science department with other engineering buildings.
Computer programing is among the fastest growing careers in the U.S. and students are demanding more and better computer science classes.
Last year, Microsoft Corp. co-founder Steve Ballmer gave his alma mater Harvard University a gift estimated at $60 million to increase the school's computer science faculty to 36 from 24. Princeton University, which already has 30 professors in the discipline, has said it will also expand.
Before it's here, it's on the Bloomberg Terminal.
LEARN MORE