Watch President Obama Talk to David Simon About 'The Wire'
The president's fandom of the HBO series, and what it means for criminal justice.
By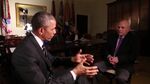 It was the only event in Washington this week co-sponsored by the ACLU, Koch Industries, and Gingrich Productions. It was the only space where Attorney General Eric Holder told a joke about the ongoing Republican delays keeping him in his job—and then some of those same Republicans appeared, via video, talking up their own bills to reduce sentencing disparities. The Bipartisan Summit on Criminal Justice Reform, an outgrowth of several left/right policy meetings, also ended with a special video conversation between President Barack Obama and the creator of The Wire, David Simon.