U.S. Said to See Path to Framework for Iran Nuclear Agreement
Indira A.R. Lakshmanan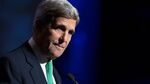 The U.S. sees a path to achieving a framework for a long-term nuclear accord with Iran by the end of March, though it remains unclear whether an agreement can be reached, a State Department official involved in talks said Wednesday.
Among the six world powers negotiating with Iran, differences exist over the tactical approach to getting the best deal, the official told reporters traveling with Secretary of State John Kerry. Still, the U.S. is united with its partners in trying to get the longest-possible agreement to restrict and monitor Iran's nuclear activity, the official said, speaking on condition of anonymity because of diplomatic protocol.
The official said any political understanding must address all major issues contested over years of negotiations: cutting off Iran's multiple pathways to a nuclear weapon; limits on research and development; transparency and inspections; the length of an agreement; and sanctions relief.
Until Kerry resumes talks with Iranian Foreign Minister Mohammad Javad Zarif on Thursday in Switzerland, it won't be clear if the Iranians have seriously considered the latest proposals from the international community and are ready to make the "hard decisions" that Kerry said would be needed, the official said.
An agreement could be reached within a week but collapse before the end of June if the two sides can't agree on technical annexes, according to several officials involved in talks, who also spoke on condition of anonymity.
Talks Resume
Talks among Iran and representatives of the six powers negotiating on behalf of the international community -- China, France, Germany, Russia, the U.K. and the U.S. -- resumed Wednesday in a hotel overlooking Lake Geneva in the Swiss resort town of Lausanne.
It's not known yet if foreign ministers from the other five countries will join Kerry and Zarif before the self-imposed March 31 deadline for a framework deal, or attempt to salvage negotiations if an agreement isn't reached.
French officials have spoken out in the past week about remaining gaps with Iran, including over the duration of a deal, limits on research and development and access for United Nations atomic inspectors. The French government has warned against rushing into an agreement to satisfy a March deadline set last year when talks were extended.
Downplaying Deadline
Kerry continues to insist the deadline is important, though he has stressed the U.S. won't accept a bad deal. The British and French ambassadors to the UN echoed that sentiment on Tuesday. The Iranian government has downplayed the March deadline, with Supreme Leader Ayatollah Ali Khamenei saying he doesn't want a two-step process of an understanding followed months later by a written deal.
U.S. officials say the path proposed by Israeli Prime Minister Benjamin Netanyahu and many in the U.S. Congress -- that sanctions should increase until Iran agrees to the most stringent conditions on its nuclear program -- is unrealistic. Such an approach, they say, risks collapsing the talks and potentially bringing the world to the brink of a military crisis.
"What happens if, as our critics propose, we just walk away from a plan that the rest of the world were to deem to be reasonable? Well, the talks would collapse," Kerry said at an event with visiting U.S. ambassadors before leaving Washington. "Iran would have the ability to go right back spinning its centrifuges and enriching to the degree they want."
Time Pressure
The Obama administration faces a time pressure that other parties don't. A hostile Republican leadership in Congress, spurred by Netanyahu, has vowed to back new sanctions on Iran if a deal isn't reached by March 31. Republican leaders have also said they'll vote on a bill that has the support of Senate Democrats giving Congress the power to reject a deal.
The Obama administration's goal is to nail down by month's end specifics on restrictions Iran will accept on its nuclear activities, the official traveling with Kerry said.
Technical experts would then have three months to craft annexes to a final accord that would specify how, and under what timeline, Iran would have to take those steps in exchange for relief from U.S. and European oil and banking sanctions, among other penalities.
It's still not clear if an accord this month would be written or verbal, with the details to be filled in by the end of June. An interim nuclear agreement reached in Geneva in November 2013 is valid through June.
If an understanding can't be reached this month, all sides would have to evaluate the status of the interim agreement and the continuation of talks, said the official.
Progress Seen
More progress was made in six days of talks in Lausanne last week than in any previous round since the interim accord was reached 16 months ago, the official said, which is why U.S. negotiators say a deal is within reach.
Last November, an Iranian website affiliated with the foreign ministry reported the six powers proposed to allow Iran to operate 6,000 centrifuges to enrich uranium into nuclear fuel -- four times the initial demand that Iran be limited to 1,500 centrifuges. U.S. negotiators have refused to confirm numbers or discuss specifics. Iran currently has nearly 20,000 centrifuges, about 9,500 of which are in operation.
Under the 2013 interim accord, Iran agreed to limit its enrichment capacity to 5 percent, a level needed for energy reactors, to downblend and convert its stockpile of 20 percent medium-enriched uranium for a medical reactor, and to expand access for UN inspectors to all declared nuclear facilities, uranium mines and mills.
Sanctions Relief
In exchange, the Persian Gulf state was given access to billions of dollars in frozen oil revenues, as well as relief from petrochemical, gold and auto sanctions. Banking, energy, shipping and trade sanctions have hobbled the Islamic Republic's economy, cutting oil revenue and the gross domestic product, spurring inflation and weakening its currency.
Low- and medium-enriched uranium is used in power plants and medical reactors. If enriched to higher levels, it can be used to fuel a nuclear weapon. The U.S. and its negotiating partners suspect Iran has secretly pursued a nuclear weapons capability, and for years, the UN's International Atomic Energy Agency has unsuccessfully pressed Iran to explain possible military dimensions of its activities. Iran insists its atomic work is strictly for energy and medical research.