Buying Guide
The 10 Best White Shirts for Every Body Type
Find your fit, and buy in bulk, if you're not looking to go bespoke
By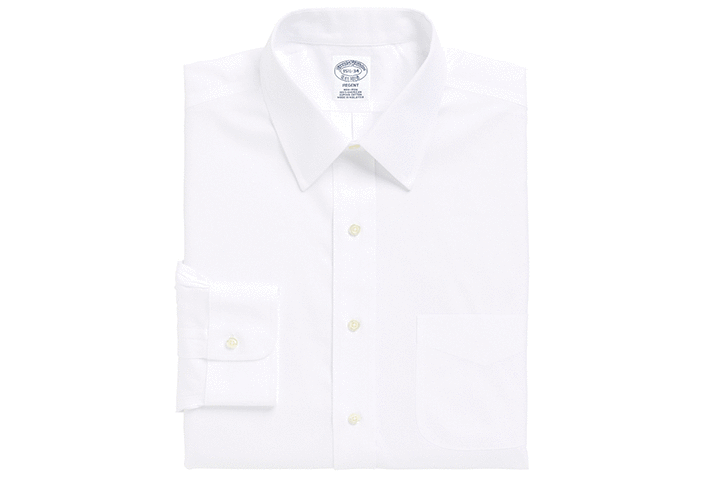 There are literally millions of white dress shirts in the world. Maybe billions. But finding one that's the perfect fit for you can be surprisingly difficult—you'll find different cuts and different collars, and there's that thing that happens when you get one that's too short and it comes out of your pants. So when you find a great white shirt, you can hardly be blamed for wanting to buy a dozen at once. After all, the white shirt is a blank canvas for the rest of your outfit; nobody notices if you're wearing the same brand day in and day out.
A great option is to get a custom shirt, either in person at a tailor shop or from online retailers like Ratio Clothing or Proper Cloth. But if you prefer to shop in a store or from a brand you trust, here are 10 versions of the white shirt from reliable, top fashion labels. I've highlighted which ones are suited to which body types, and for what occasions. There's a shirt here for you, I promise. Now go and buy 12 of them.
Hugh & Crye 

White poplin shirt, Hugh & Crye ($95; hughandcrye.com)
The experts behind the shirting company, Hugh & Crye developed a sizing system called the fit finder, where men can find dress shirts based on their body type. Fits range from short/skinny to tall/broad and are offered across 16 sizes. First, find your fit: Answer a few basic questions, and punch in your height, weight, and body type. Second, shop away.
For: Varying body types
Ralph Lauren Black Label

White shirt, Ralph Lauren Black Label ($350; ralphlauren.com)
The Ralph Lauren Black Label shirt is made of 100 percent cotton, which is thick enough not to be transparent and feels like a soft jersey. The tailored sloan oxford shirt features a trimmed silhouette, and the sheen makes it appropriate for black tie.
For: Thinner types who like a snug, tailored fit
Tom Ford 

Classic-fit high collar stand barrel cuff white shirt, Tom Ford ($990; tomford.com)
When it comes to formalwear, Tom Ford should be on your list; he has you covered from head to toe, with shoes, ties, and accessories. The designer traditionally cuts far slimmer than most, and his sizing starts at 38, so you might want to go for a size larger than you're normally used to.
For: Thinner guys with athletic builds
Turnbull & Asser 

Slim-fit white marcella dress shirt, Turnbull & Asser ($395; turnbullandasser.com)
English brand Turnbull & Asser is one of my personal favorites. It's been in the game for more than 130 years but only a year ago introduced a more tailored style. The slim-fit white marcella dress shirt is a great one, and it features the brand's signature three-button cuff. The regent collar, which is an open look that's still less severe than a cutaway collar, gives you the option of wearing a tie or ditching it for that casual vibe.
For: Men with average body types who sometimes like to go tieless
Brooks Brothers 

Non-iron regent-fit point-collar dress shirt, Brooks Brothers ($69; brooksbrothers.com)
This is the highest-quality white dress shirt at a moderate price point. Brooks Brothers offers four different fits (Madison, Regent, Milano, and Traditional) and a huge range of neck- and sleeve-size combinations.
For: Tall gents, and men who need a more generous cut
Charvet 

White royal slim-fit oxford shirt, Charvet ($515; mrporter.com)
Charvet is a high-end Parisian shirtmaker that used to design custom shirts for kings and the royals. That's luxury. (Also, its accessories are beautiful and classic.) If you really want a special experience, and a shirt to match, you can get one made to your exact measurements from one of 6,000 fabrics in Charvet's Paris shop.
For: Average body types
Ermenegildo Zegna 

White poplin shirt, Ermenegildo Zegna ($345; zegna.com)
If I could award this the best white point-collar shirt ever, I would. This cotton-twill Ermenegildo Zegna shirt is an easy choice for work and afterward. It's comfortable, sleek, and tapered at the waist for a flattering fit on a trimmer gentleman—but it comes in many size combinations.
For: Broad-shouldered guys, but with a thin torso
Hamilton

White dress shirt, Hamilton ($225; hamiltonshirts.com)
Another brand at the helm of the shirting industry is Houston-based, family-owned company Hamilton, which is known for its bespoke services and exceptional craftsmanship. All Hamilton shirts have a tailored fit, meaning the chest and sleeves are cut slimmer.
For: All body types, except the too thin or too tall
Eton
Solid white dress shirt, Eton of Sweden ($235; etonshirts.com)
This Swedish brand cherishes high quality and genuine craftsmanship, and it shows. Eton's Red Ribbon collection offers a selection of dress shirts, some of the best white options, in different collar and cuff variations and four different fits.
For: All body types; varying fits and size options to try
Thom Browne

White oxford shirt, Thom Browne ($330; thombrowne.com)
Most of Thom Browne's creations are extravagant and made specifically for the runway. (Let's be honest: No one is going to the office wearing an elephant headpiece.) But I do applaud Mr. Browne for his creativity with more standard items, like blazers. He realizes it's the small details that matter. What I love most about this basic white shirt is the pop of Thom Browne's signature red, white, and blue.
For: Average body type, but if you're over 6 feet, stay away; someone who can wear a dress shirt with a little extra flair at work
Moti Ankari is the associate market editor for Bloomberg. Follow him on Twitter @motiankari and Instagram @themetroman, or contact him at mankari@bloomberg.net.
Before it's here, it's on the Bloomberg Terminal.
LEARN MORE