politics
Scott Walker Says Bergdahl Prisoner Swap Happened Because Obama Hadn't Led
The Wisconsin governor and likely presidential candidate said the Bergdahl prisoner swap "is what happens when you put someone in office who's never led before."
By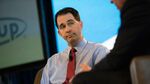 Wisconsin Governor Scott Walker says the prisoner swap that freed five Taliban prisoners in exchange for Army Sgt. Bowe Bergdahl "frustrated" him, and he blamed it on President Obama's lack of experience.
"The unfortunate reality is this is what happens when you put someone in office who's never led before," Walker said Wednesday evening on Hugh Hewitt's radio show, hours after Bergdahl was charged with desertion and misbehavior before the enemy. "This president, unfortunately, having been a senator, a state senator, a community organizer, never led anything, and so he's never been in a position to make those sorts of judgments."
The interview focused largely on international affairs, with Walker saying that "Iran and Israel are trading places" in Obama's foreign policy and that he would reject "on day one" any deal between the U.S. and Iran that left the Islamic Republic with uranium-enrichment capabilities.
Bergdahl was captured in eastern Afghanistan in 2009 and released last year. 
Walker, a Republican who is mulling a presidential run, drew an implicit comparison between himself and the president. 
"When you're a governor, you're a mayor, you're a county executive ... you have to act on behalf of not just the people who elected you, but the whole group," he said. Walker said the administration knew of Bergdahl's alleged desertion "when they put American soldiers' lives at risk to try and rescue him."
Before it's here, it's on the Bloomberg Terminal.
LEARN MORE