Saudi Arabia, Gulf Allies Bomb Shiite Houthi Targets in Yemen
Glen Carey and Mohammed Hatem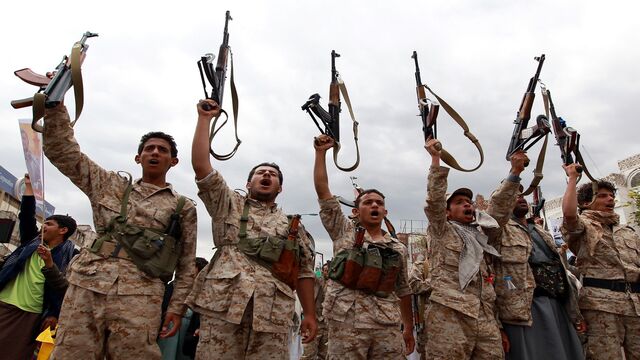 Saudi Arabia led airstrikes against Shiite rebels in Yemen as it seeks to prop up an allied government facing the loss of its last remaining stronghold.
The Saudis headed a coalition of 10 Sunni-ruled nations that carried out raids around Yemen's capital Sana'a, which is controlled by the Houthi rebels. The attack came after the rebels advanced on the southern port of Aden, where forces loyal to President Abdurabuh Mansur Hadi had rallied. A new wave of bombings began late on Thursday, pounding army posts around the capital as anti-aircraft artillery fired back.
The coalition has no immediate plan to send ground troops to Yemen, though it's ready to do so if needed and plans to continue the air operation for as long as is necessary, Ahmed Asseri, a Saudi military officer and spokesman for the operation, said at a press conference in Riyadh.
Yemen's conflict is drawing in neighbors and threatening a wider war in a region that holds more than half the world's oil. Saudi Arabia and its allies support Hadi, while Shiite-led Iran has ties with the Houthi rebels. Years of unrest and uprisings have already weakened Yemen's government and allowed al-Qaeda to establish a base in the country.
Supporting Jihadis
Brent crude surged for a second day, adding 4.4 percent to $59 a barrel at 3 p.m. in New York. Yemen's southern tip, called the Bab el-Mandeb, is a choke point in international shipping and the global energy trade.
The U.S., which withdrew its special forces from Yemen amid the past week's turmoil, counts Hadi's government as an ally against al-Qaeda. President Barack Obama has "authorized the provision of logistical and intelligence support" for the Gulf-led operation, the White House said in a statement.
Saudi Arabia and other Gulf countries haven't requested any logistical or aerial refueling support, according to Air Force Major Omar Villarreal, a spokesman for U.S. Central Command, which oversees military operations in the Middle East. He said he couldn't comment on whether the U.S. is sharing intelligence, citing operational security and policy reasons.
The Houthis, who are fighting al-Qaeda throughout Yemen, accuse Hadi of tacitly supporting the jihadists. Their leader Abdulmalik al-Houthi, in a televised address late Thursday, denounced an "unjustified aggression" and accused the Saudis and other countries that joined the bombing of being "puppets" of the West.
Iran's Foreign Minister Mohammed Javad Zarif said the Gulf intervention would play into the hands of al-Qaeda and Islamic State, according to official Press TV.
'Political Process'
The goal of the bombing is "to create conditions to go back to the political process," Anwar Gargash, foreign minister of the United Arab Emirates, which is part of the Saudi-led campaign, told Bloomberg television. United Nations-backed talks between the parties in Yemen have collapsed, and the Houthis have ruled out attending a proposed fresh round of negotiations in Saudi Arabia or Qatar.
Arab foreign ministers meeting in the Egyptian resort of Sharm El-Sheikh agreed in principle on a joint military force, and Egypt has expressed readiness to send troops, according to Al Arabiya TV.
The Houthi advance has been accelerated by an alliance with Ali Abdullah Saleh, the former president who ceded power to Hadi under a Gulf-brokered accord in 2011, and who still retains the loyalty of some military units.
'Locked Indoors'
In Aden, the main southern port where Hadi has sought to regroup after fleeing the rebel-held capital last month, there were clashes on the streets between supporters of both sides, according to Nabil al-Quaiti, a local resident.
There's similar fighting in al-Hawttah, a provincial capital northeast of Aden, said Hisham al-Attri, who lives there. "People are locked indoors, and I've seen dead bodies on the streets from my house," he said.
The air raids hit weapons depots, military camps, anti-aircraft missiles and air bases, many of them around Sana'a. The Houthi-controlled Saba news agency said 18 civilians were killed at al-Dailami airbase near the capital. Four aircraft were destroyed, Yemen's Foreign Minister Riad Yaseen said.
Thousands of Houthi supporters protested in the capital against the airstrikes, and chanted slogans denouncing the Gulf countries and the U.S.
Saudi Arabia, the U.A.E., Kuwait, Bahrain and Qatar said they responded to a request from Hadi, according to the official Saudi Press Agency. Egypt, Pakistan, Jordan, Morocco and Sudan are also part of the operation, according to Al Arabiya.
Zaidi Shiites
The oil-rich Sunni Arab states of the Persian Gulf, longtime U.S. allies, have pursued more assertive foreign policies in recent years, sending troops to crush a pro-democracy uprising in Bahrain and taking part in U.S.-led strikes against Islamic State in Syria.
They're seeking to ward off perceived threats to their absolute monarchies, especially from Shiite groups or from Sunni Islamist movements such as the Muslim Brotherhood that seek power via the ballot box.
The Houthis follow the Zaidi branch of Shiite Islam and say they don't take orders from Iran. Zaidis make up about 40 percent of Yemen's population, concentrated in the northern half of a country that was reunified in 1990 after decades of division into two states.
Before it's here, it's on the Bloomberg Terminal.
LEARN MORE