Payday Lenders Face New Rules Amid Allegations of Consumer Abuse
Carter Dougherty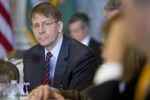 Payday lenders face their toughest federal regulations to date following a years-long campaign by consumer groups that accused the firms of charging astronomical interest rates and leaving borrowers in an inescapable debt trap.
The U.S. Consumer Financial Protection Bureau will propose Thursday that payday lenders verify a borrower's income, outstanding debts and history of repaying loans before extending them additional credit. The rules are intended to rein in an industry the CFPB said charges rates that can exceed 500 percent on loans ranging from $100 to $500.
"Too many short-term and longer-term loans are made based on a lender's ability to collect and not on a borrower's ability to repay," CFPB Director Richard Cordray said in an e-mailed statement. "The proposals we are considering would require lenders to take steps to make sure consumers can pay back their loans."
While far from final, the CFPB rules would probably affect a broad swath of companies if approved, including auto-title lenders and banks that offer advance loans to customers through checking accounts. Payday lenders have repeatedly drawn the ire of politicians and President Barack Obama is slated to discuss the industry and the CFPB's proposed regulations during a Thursday speech, according to a White House spokesman.
Intense Lobbying
The CFPB said it's considering two approaches to regulations. One would require lenders to determine at the outset whether a customer is able to repay a loan, while the other would impose restrictions designed to ensure a consumer can pay off their debt. The rules also could restrict how lenders debit customer checking accounts in order to avoid bank fees.
The CFPB isn't yet proposing a formal regulation. The law requires the agency to first submit its ideas for rules to a government panel that examines whether they would impose an undue burden on small businesses.
Still, the proposal will probably set off intense lobbying by payday lenders, who say they are providing a source of borrowing for people who can't get credit cards or more standard bank loans.
"At a time when consumers are demanding choices for flexible, responsible credit products, we're very concerned that this initial proposal could severely restrict their options," Lisa McGreevy, the head of the Online Lenders Alliance, said in an e-mailed statement.
'Debt Trap'
Fifty-six percent of the customers of payday-loan stores earn between $10,000 and $40,000 a year, according to a 2013 CFPB study. Only 8 percent earn more than $50,000 annually.
Borrowers are typically required to pay back loans in a few weeks. The short time frame can make it difficult for consumers living paycheck to paycheck to accumulate enough money to repay their debts, the CFPB said.
As a result, many loans are rolled over into a new loan or consumers are charged additional fees to extend their due date. So what starts out as a "short-term, emergency loan, turns into an unaffordable, long-term debt trap," the CFPB said.
Complaints about those types of business practices prompted consumer groups to call the regulator's plan long overdue.
"The proposal endorses the principal that payday lenders be expected to do what responsible mortgage and other lenders already do: check a borrower's ability to repay the loan on the terms it is given," Mike Calhoun, president of the Center for Responsible Lending, a Durham, North Carolina-based advocacy group, said in an e-mailed statement.
Before it's here, it's on the Bloomberg Terminal.
LEARN MORE