Papa Bush Tells Donors that Jeb is a 'Tested and Gracious Leader'
Exclusive: Letter from the 41st president comes ahead of fundraiser he's attending in Houston.
By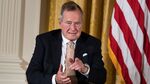 Ahead of a fundraiser he's attending Thursday evening in Houston, former President George H.W. Bush has penned a letter to potential donors asking them to give "even $25" to a super-PAC supporting his son, former Florida Governor Jeb Bush. 
In the two-page letter obtained by Bloomberg P0litics, the former president says his son, who is considering his own presidential campaign, "stands out for his refreshing and complete lack of interest in negative attacks."
"He is a tested and gracious leader who deeply believes that we  must elevate our national debate and he can be counted on to be steadfast in defending our great nation," the 41st president writes.
In addition to the letter, the mailer included a one-page bio of the former governor that refers to the tax cuts and budget vetoes he oversaw in Florida, the education policies he championed while in office, his 2013 book on immigration, and "his career as a successful businessman, entrepreneur, and investor" since leaving office in 2007.
Jeb Bush was in Dallas on Wednesday for a fundraiser attended by his brother, former President George W. Bush, and former First Lady Laura Bush. Bush's father and mother, former First Lady Barbara Bush, are attending the House event. Barbara Bush e-mailed supporters recently asking them for small donations to her son's super-PAC.
"I love the fact that we have a united family," Jeb Bush said Thursday during an interview on Fox News Radio that the former governor live-streamed on his Meerkat page.