Papa Bush Tells Donors that Jeb is a 'Tested and Gracious Leader'
Exclusive: Letter from the 41st president comes ahead of fundraiser he's attending in Houston.
By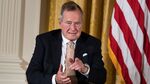 Ahead of a fundraiser he's attending Thursday evening in Houston, former President George H.W. Bush has penned a letter to potential donors asking them to give "even $25" to a super-PAC supporting his son, former Florida Governor Jeb Bush.