Panasonic Soars on Outlook for Earnings to Reach 8-Year High
Pavel Alpeyev and Grace Huang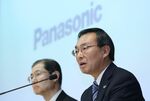 Panasonic Corp. rose to the highest this year after forecasting annual profit will climb 23 percent on demand for housing and car infotainment systems.
The stock gained 3.2 percent from Thursday's closing price, the second-best performance Friday on the benchmark Nikkei 225 Stock Average. The shares traded on an ex-dividend basis.
President Kazuhiro Tsuga has steered away from televisions and smartphones to focus on housing and entertainment, information systems for cars and on manufacturing batteries with Tesla Motors Inc. Tsuga said the diversifying electronics maker plans 200 billion yen in strategic investments in the coming year, part of a push to spend 1 trillion yen to help reach its goal of 10 trillion yen in revenue by fiscal 2018.
"The attention is now on whether the company can grow in scale while continuing to improve profitability," Yu Okazaki, an analyst at Nomura Holdings Inc. in Tokyo, wrote in a report dated yesterday.
Operating income will probably be 430 billion yen ($3.6 billion) in the year starting April 1, the company said Thursday after the market closed. That would be the highest profit since 2008.
Panasonic gained as much as 5.7 percent, before closing at 1,576.5 yen in Tokyo. The Nikkei 225 fell 1 percent.
The company raised 400 billion yen in a bond offering this month to help fund capital spending and acquisitions.
Beating Estimates
The operating profit forecast for the year starting April 1 exceeds the 402 billion yen average of 17 analysts' estimates compiled by Bloomberg.
Sales next fiscal year will climb to 8 trillion yen, the company said in a statement.
"Business-to-business solutions and automotive are areas where there is a possibility of large scale acquisitions measuring in tens of billions of yen," Tsuga told reporters in Tokyo Thursday. "In the automotive business, we have already secured 70 percent of the orders needed to meet our fiscal 2018 sales target."
The company kept its target for 10 trillion yen in revenue by fiscal 2018. In that year, Panasonic has said it expects sales of 2.5 trillion yen in its business that includes avionics and security systems, about 2.1 trillion yen for automotive components, 2 trillion yen for housing and 2.3 trillion yen for household appliances.
Panasonic reported its first annual net income since 2011 last fiscal year, after Tsuga halted production of money-losing plasma TVs and stopped developing smartphones for consumer use, as part of his strategy of targeting businesses rather than consumers. The company's stock has gained 28 percent over the past 12 months.
Success Sign
In the latest sign of success with efforts to move beyond consumer electronics, Panasonic earned 80.3 billion yen in operating profit from its automotive and industrial systems segment in the nine months to December. That made it the single biggest contributor to profit. The company's eco-solutions business, which includes lighting and housing-related materials, contributed 75.7 billion yen in profit, more than three-and-half times the audio visual business.
As part of the company's strategic shift, it set up a manufacturing unit in the U.S. at Tesla's battery "gigafactory" in Nevada. The manufacturer, which was started in 1918 by Konosuke Matsushita, his wife and brother-in-law in a two-story house, is also developing self-driving technologies for cars, including parking assistance.
Before it's here, it's on the Bloomberg Terminal.
LEARN MORE