New BOJ Member Says Hard to Reach Price Goal in Two Years
Toru Fujioka and Masahiro Hidaka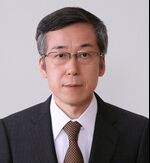 New Bank of Japan board member Yutaka Harada said it would be hard to reach the central bank's goal of 2 percent inflation in its two-year timeframe.
"It's pretty hard to think of both the objective's number and timeframe as a rigid goal, or it may be impossible," Harada said Thursday at his inaugural press conference in Tokyo. "It wouldn't be such a big problem for the Japanese economy if 2 percent couldn't be met in two years due to positive factors such as falling oil prices."
Prime Minister Shinzo Abe picked Harada to help maintain momentum for his campaign to end more than a decade of deflation. Harada said he had few differences with Governor Haruhiko Kuroda over the role of monetary policy, and he agreed with the chief's decision to add stimulus in October -- a move that triggered the biggest board split since 2008.
"Harada and Kuroda are on the same page that more easing is needed when the price trend weakens," said Kiichi Murashima, an economist at Citigroup Inc. in Tokyo "Harada's job is to say yes when Kuroda decides to do more easing."
Harada, a former professor at Waseda University, joins the nine-member board as Japan's economy shows signs of recovery from a recession triggered by a sales-tax increase in April last year.
Inflation excluding fresh food and the impact of April's sales-tax increase slowed to 0.2 percent in January -- one-tenth of the BOJ's target -- pressured by a plunge in oil prices.
"Further easing will be justified if prices don't rise and the deflationary mindset of the people deepens," Harada said Thursday.
'Well-Known Reflationist'
Governor Kuroda aimed to stoke 2 percent price gains in about two years when he introduced record monetary stimulus in April 2013. Last week, Kuroda said he expects the target to be reached around the fiscal year that runs through March 2016.
Twenty-three of 34 economists said the BOJ will expand stimulus by the end of October, according to a Bloomberg survey conducted March 5-12. Thirty economists said Harada will vote along with Kuroda.
"I don't have differences with Governor Kuroda on the goal, so there will be a lot of points we agree on," Harada said Thursday. "It's important to improve the economy through price stability and it's critical to carry out policies to fulfill that. That's why I think I was chosen."
Yasuhide Yajima, an economist at NLI Research Institute, said before the briefing that Harada is a well-known reflationist. "Kuroda can count on Harada's support and he is likely to keep a majority," Yajima said.
'Good Choice'
Harada wrote in a 2012 paper that the "absence of any real monetary policy" contributed to two decades of stagnation in Japan. He co-edited a 2013 book called "Reflationary Policy Revives Japan's Economy" with Deputy Governor Kikuo Iwata and Koichi Hamada, an adviser to Abe on monetary policy.
Harada would be a "very good choice" for the BOJ board as he understands the importance of monetary policy, Hamada said in an interview last month. Harada is very serious about fiscal consolidation as well, he said.
The term of Yoshihisa Morimoto, a board member who voted against Kuroda in October, is set to end on June 30. Ryuzo Miyao, who has supported every decision by Kuroda, ended his term yesterday.
Before it's here, it's on the Bloomberg Terminal.
LEARN MORE