Mitt Romney Says Hillary Clinton Looks Like a Shoo-In, Just Like in 2008
The 2012 Republican nominee says Clinton's competition will probably just be some V.P. hopefuls, but "you never know."
By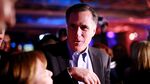 Mitt Romney says Hillary Clinton looks like a lock for the Democratic presidential nomination in 2016—but, he reminded an audience Wednesday, we've seen that movie before.
"I mean, that was the way we felt in 2008," Romney said on The Tonight Show. "It was a shoo-in. She was going to be the nominee. And there was this guy, Barack Obama coming along. I gave him, what, a 5 percent chance? And he becomes the nominee and the president. So this time it looks like she's a shoo-in, but you never know."
The 2012 Republican nominee said the first GOP primary debate will have 10 or 15 people on the stage. "On the Democratic side," he said, "it'll probably be Hillary and a couple of people who want to be her V.P."
He called Clinton's exclusive use of private e-mail as President Obama's secretary of state "obviously a big deal."
Romney, who has ruled out a third run for president, said newly announced Republican candidate Ted Cruz is a "remarkable speaker" and "a very gifted, eloquent guy, and he'll make a big impression."
He also posed with rapper 50 Cent, the evening's musical guest.