Loretta Lynch Confirmation Vote Deadlock a U.S. Postwar First
Mike Dorning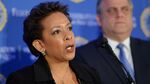 The confirmation of Loretta Lynch as U.S. attorney general is breaking new ground: It's being delayed even though she is untainted by scandal, questions about her qualifications or extreme ideological views.
That makes the challenge to her nomination unusual. In the post-World War II era, only two nominees for Cabinet posts have been rejected and seven withdrew. All faced questions about their personal record.
When a decision finally comes on Lynch, it may be the first Cabinet confirmation vote in U.S. history that will require the vice president to break a tie in the Senate, where only one Republican has declared for her and three others supported her nomination in committee. If all 46 Democratic votes went for Lynch, it could set up a deadlock, meaning Vice President Joe Biden would cast the deciding ballot.
While partisan gridlock over policy has become common in Washington, the fight over Lynch portends the waning of a traditional deference to the president in choosing his advisers.
"This is a nomination that is being held up in a manner completely without precedent," said Ross Baker, a political science professor at Rutgers University in New Jersey who studies Congress. "It will be an excuse to do the same thing next time."
Republican Complaints
Republicans say they have substantive objections to Lynch, 55, the U.S. attorney in Brooklyn who would replace Eric Holder as the nation's top law-enforcement official. They're angry over her support for President Barack Obama's use of executive authority. The nomination has also become entangled in political disputes over issues such as immigration, abortion rights and race that are unrelated to her record.
White House Press Secretary Josh Earnest blamed "partisan politics in the Senate" for the delay, citing a November promise by Senator Mitch McConnell, a Kentucky Republican who became Senate majority leader in January, to move the nomination quickly.
"Based on the substantial delays that we've seen, it certainly raises questions about Senator McConnell's commitment to keep that promise," Earnest said Thursday on MSNBC.
Lynch's wait for a confirmation vote -- 138 days since her Nov. 8 nomination -- is the longest for a Cabinet nominee since Ronald Reagan's choice of Edwin Meese III in 1984. Meese waited 13 months while an independent counsel examined allegations concerning his personal finances.
Nomination Battles
Even those who oppose Lynch's nomination say she's well-qualified to be U.S. attorney general.
Cabinet nomination battles typically have stemmed from matters of personal conduct. President George H.W. Bush's choice of John Tower for Defense secretary was defeated amid allegations of alcohol abuse and womanizing. Bill Clinton's nomination of Zoe Baird for attorney general and George W. Bush's selection of Linda Chavez for Labor secretary were withdrawn after disclosures that they employed undocumented workers.
Tom Daschle withdrew as Obama's nominee for Health and Human Services secretary because of tax problems.
The battle over Lynch is being is fueled by Republican senators' frustration over Obama's use of executive authority to protect millions of undocumented workers from deportation, as well as on Cuba and climate change, said former Republican Senator Kay Bailey Hutchison of Texas. She also cited bad feelings over Senate Democratic Leader Harry Reid's decision when his party held the majority to change the rules to prevent Republicans from blocking nominations.
'No Give'
"This is a shot across the bow that you've got to work with Congress," said Hutchison, now a senior counsel with the law firm Bracewell & Giuliani. "When there's no give on the other side, that's when leverage is used on another issue."
Republicans criticized Lynch in her confirmation hearings for backing Obama's view that his executive actions are based on legitimate legal authority.
Republican Senator Shelley Moore Capito of West Virginia said in a statement that she won't vote for Lynch because she's not confident the nominee will "exercise the independence needed to stand up for the proper separation of powers."
McConnell says he won't allow a vote on Lynch's nomination until senators resolve a dispute over human-trafficking legislation. Democrats have blocked that measure because it includes provisions expanding limits on funding of abortions.
Racism Charges
The unusual basis for Republican opposition to Lynch, who would be the first African-American woman to be attorney general, has stoked charges of racism from some Democrats.
Assistant Senate Democratic Leader Richard Durbin of Illinois charged that Lynch is being "asked to sit in the back of the bus," invoking a comparison to Rosa Parks, a civil rights pioneer who in 1955 refused to give up her seat to a white passenger.
Democratic Representative Emanuel Cleaver of Missouri, a former chairman of the Congressional Black Caucus, said a rejection of Lynch by Senate Republicans would be taken as evidence that racial animus contributes to opposition to Obama.
It would, Cleaver said, be seen as "another sign that the chasm we thought was narrowing is, in fact, just as it was before we entered into this new millennium, as it relates to issues with race."