Let There Be Dark: Pioneer RBNZ Joins In Diluting Guidance
Matthew Brockett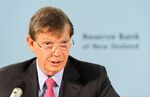 New Zealand's central bank, one of the pioneers of interest-rate guidance, is finding that like the Federal Reserve, sometimes it's better to be vague.
The bank this month sliced a year off its forecasts for 90-day bank bills, which are a guide to the outlook for the benchmark interest rate. The missing projections likely showed an upward movement in 2017 alongside an economy growing at 3 percent, which would have hinted at a tightening bias.
Governor Graeme Wheeler is giving himself greater policy flexibility as he faces a number of cross-currents -- solid economic growth and a real-estate boom have coincided with inflation grinding to a halt. He isn't alone in creating some wriggle room. The Fed last week diluted its forward guidance by removing a pledge to be patient in raising rates, while refusing to be drawn on the timing of an increase.
"All central banks need to tread very carefully," said Annette Beacher, head of Asia-Pacific research at TD Securities Inc. in Singapore. "We are in extraordinary times. No one really knows where cash rates are going to be anywhere in the next 12 months."
Wheeler presides over one of the fastest-growing economies in the developed world, yet inflation is less than half his 2 percent target and heading lower still. Compounding his quandary is the strength of the local dollar, which is suppressing inflation by damping import prices.
Kiwi Strength
The kiwi gained as much as 7 percent this month from a low of 71.92 U.S. cents to as high as 76.97 cents, and on a trade-weighted basis is above the level the Reserve Bank of New Zealand used in its most recent economic projections. The RBNZ's cash rate of 3.5 percent is higher than all but two of the 34 members of the Organisation for Economic Cooperation and Development and is drawing yield-seeking investors to the nation's currency.
Less than 12 months after he became one of the few central bankers to raise rates, Wheeler has spelled out the conditions that could warrant a cut. While a period of rate stability is the most prudent option, monetary policy may need to be eased if domestic demand were to weaken and price pressures abate further, he said in a speech Feb. 4.
Only three of 15 economists surveyed March 6 predicted a rate reduction by the end of this year. Traders are pricing in a 60 percent chance of one by December, swaps data compiled by Bloomberg show.
Transparency Tested
The RBNZ's forecast track for the 90-day bank bill published March 12 is completely flat at 3.7 percent and ends in the first quarter of 2017, indicating the benchmark rate could stay on hold for two years. In previous policy statements, the forecasts extended three years into the future.
The RBNZ started publishing 90-day bill forecasts in mid-1997, becoming one of the first central banks to give explicit forward guidance and winning plaudits for its transparency. It also pioneered inflation targeting in 1990.
"We try to be as transparent as possible," Wheeler said this month. "We're one of the most transparent central banks in terms of putting out interest-rate projections, but our ability to forecast rates the further out we go just diminishes."
When the Reserve Bank of Australia lowered its cash rate in February for the first time in 16 months, it gave no indication of the future direction of policy.
'Less of a Role'
The Bank of England has also reduced the amount of telegraphing for U.K. interest rates and other central banks, including those in India and Canada, have shown greater willingness to buck investor expectations when cutting rates this year. Some, such as Sweden's Riksbank, have surprised by acting outside normal policy meetings.
"It is likely that explicit long-term forward guidance will play less of a role in monetary policy after liftoff than it has during the past few years," Fed Vice Chairman Stanley Fischer said March 23. "As monetary policy is normalized, interest rates will sometimes have to be increased, and sometimes decreased."
The Fed last week axed a pledge to be "patient" in raising rates from near zero while lowering its estimates for how high they will go. Chair Janet Yellen said the change "doesn't mean we are going to be impatient," and threw doubt over expectations for a rate increase in June.
Zero Inflation
That drove the New Zealand dollar higher, increasing downward pressure on import prices.
The RBNZ already forecasts inflation will slow to zero this quarter after an oil-price slump. If that led to a significant drop in inflation expectations, "more supportive monetary policy" would be warranted, the bank said in its latest statement.
If the RBNZ is serious about getting the currency down, "they're going to have to do more than wait for the Fed to tighten, that is cut rates," said Beacher. "At this stage they're resisting that path, but give it six months or so. The next move is more likely to be down than up."
Before it's here, it's on the Bloomberg Terminal.
LEARN MORE