Thousands Queue for Miles to Pay Last Respects to Lee Kuan Yew
Andrea Tan and Sharon Chen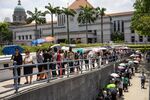 Almost 150,000 people have waited for as long as eight hours to pay tribute to Singapore's first prime minister as more stand in line to view the body of Lee Kuan Yew, who lies in state for a second day.
Lee died March 23 at 91 after being hospitalized on Feb. 5 for severe pneumonia. His state-flag draped coffin was carried to Parliament House on a gun carriage from the presidential palace on Wednesday. As of 11 p.m. on Thursday, 147,791 people had visited Lee at the venue, the government said early Friday in Singapore, after it allowed mourners 24-hour access.
Roads were closed, events canceled and lights turned off at some buildings as the Southeast Asian nation remembered Lee, who led the island from 1959 to 1990 and stepped down from the cabinet in 2011. Lee's state funeral on March 29 will be attended by government leaders including Indonesian President Joko Widodo, Australia's Tony Abbott, Indian Prime Minister Narendra Modi and South Korean President Park Geun Hye and former U.S. President Bill Clinton.
"Singapore shared this founding father with the world," U.S. Ambassador to Singapore Kirk Wagar, said in an interview. "We feel like we've been a part of this journey." Wagar is attending the funeral as part of a five-member U.S. delegation led by Clinton, which also includes former secretary of state, Henry Kissinger, Lee's friend for decades.
Black Ribbons
Outside Parliament House, the waiting time for the public standing in line to pay their respects to Lee was six hours as of 11 p.m. Singapore time on Thursday, according to the official Facebook page set up for tributes to Lee. The government extended visiting hours to 24-hours after thousands joined a line that stretched more than a mile through the financial district on Wednesday. Parliament House will be open through 8 p.m. on Saturday.
Officials handed out bottles of water to those in line as the temperature rose to 91 degrees Fahrenheit (33 degrees Celsius). A line for the elderly, pregnant women and families with young children and those with special needs was set up.
Members of parliament and cabinet ministers wore black and white, with black ribbons pinned to their chests, at a special sitting to pay tribute to Lee on Thursday. Low Thia Khiang, secretary-general of the opposition Workers' Party, described Lee as having "outstanding wisdom and courage." Lawmakers including Josephine Teo wiped away tears as their colleagues spoke about Lee.
"Mr. Lee's chair sits empty today," Minister for Defence Ng Eng Hen said. "His loss is deeply felt, a nation cries out in mourning. There will not be another Lee Kuan Yew, who made us better than we are, or could be."
Before it's here, it's on the Bloomberg Terminal.
LEARN MORE