Bank of Japan's Optimistic Inflation Target Hits Reality at the Supermarket
Chikako Mogi and Shigeki Nozawa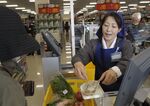 Bank of Japan Governor Haruhiko Kuroda's optimism that he can meet a 2 percent inflation target is getting a reality check at the nation's cash registers.
Analysis of scanner data for about 350,000 products at 300 supermarkets across Japan shows costs are falling, said Tsutomu Watanabe, an economics professor at the University of Tokyo. A report on Friday showed gains in consumer prices excluding fresh food slowed for a seventh month in February to a one-year low. The cost of cereals, household durable goods and rents fell last month from a year ago, the data showed.
Japan's bond market is also betting that Kuroda won't be able to meet his inflation goal during the fiscal year starting April. The break-even rate, which signals bond investors' inflation expectations, remains at half the BOJ's target. Sovereign debt has recouped most of the losses it made last month as global central banks responded to slumping commodity prices by keeping monetary policy easy.
"It'll take at least two to three more years for inflation expectations to be anchored stably at 2 percent," Watanabe, a former BOJ official, said in a March 20 interview. "Prices didn't fall sufficiently during the deflation years, with wages probably putting a floor, and that created a huge gap between where prices should have been and where they actually stayed."
Slowing Inflation
Consumer prices excluding fresh food climbed 2 percent in February, after gaining 2.2 percent in January, Friday's government report showed, compared with a median estimate for a 2.1 percent increase in a Bloomberg survey of 32 economists. The central bank's measure that strips out last year's sales-tax increase showed inflation at zero.
Prices, which fell 0.4 percent in April 2013 at the start of Kuroda's term, have gained at a slower pace for almost every month since peaking at 3.4 percent in May 2014.
The University of Tokyo's measure tends to be about 0.5 percentage point lower than the CPI, Watanabe said. The school is Japan's top university, according to QS Quacquarelli Symonds, an education-consulting company based in London.
Japanese government bonds completed a 10-month advance in January as the slowdown in inflation continued even as Kuroda pledged to expand the nation's monetary base at an annual pace of 80 trillion yen ($671 billion).
The Bloomberg Japan Sovereign Bond Index rose 0.5 percent this month, recouping some of the 0.7 percent loss in February. The 10-year bond yield, which was at 0.38 percent at 11:05 a.m. in Tokyo, touched a record low of 0.195 percent in January.
Mission Impossible
"It's impossible to stably sustain 2 percent inflation in Japan, 1 percent may be possible but 2 percent is not," said Makoto Yamashita, strategist for Japanese interest rates at Deutsche Securities Inc. in Tokyo. "Globalization makes it difficult for the price of goods to rise much."
There are signs that Kuroda's effort to keep Japan out of a deflationary spiral is making progress.
Japanese labor-union members are on course to get a pay increase of about 2.4 percent, the biggest in 17 years, the Japanese Trade Union Confederation said on March 20. Ichibanya Co., which runs a nationwide restaurant chain, in February said it planned to increase prices of toppings for curry dishes by as much as 16 percent from this month.
Making people realize that prices need to change is the key to sustaining inflation, said Watanabe. In the past, many small businesses such as barber shops have been reluctant to charge less, because they want to avoid cutting wages, he said.
"Over the long period, maintaining the same price and not cutting became a sort of default price-setting mechanism and that's not easy to change in just a few years," Watanabe said.
Before it's here, it's on the Bloomberg Terminal.
LEARN MORE