Kleiner Sex-Bias Case a Watershed Moment for Women
Laura Colby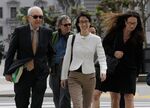 The trial in Ellen Pao's sex-bias case against Kleiner Perkins Caufield & Byers is a watershed moment, according to several female executives. And they said a jury verdict rejecting Pao's claims wouldn't change that.
"This could be a catalyzing event," said Mary Cranston, a former chairman and senior partner at Pillsbury Winthrop Shaw Pittman LLP, a global law firm based in San Francisco. She said Pao's lawsuit and the testimony about the allegations drew new attention to the discrimination and unconscious bias women face in the male-dominated technology industry.
The trial in state court in San Francisco has riveted Silicon Valley. Pao, who claims Kleiner paid her less than men, failed to promote her and fired her after she complained about the inappropriate behavior of a colleague she says pressured her into having an affair, is seeking $16 million in lost wages and compensation. The jury began deliberations Wednesday.
The discussions the trial has spurred will make employees and managers more conscious of the bias women face on the job, said Elba Pareja-Gallagher, founder of a nonprofit that promotes gender equity in the workplace.
Many women "are afraid to speak out," and Pao's decision to sue could make a difference, Pareja-Gallagher said. "She was very courageous to do it."
While women are making up a growing proportion of executives in many industries, they're a minority in most of the technology companies that increasingly drive the economy and where the income potential is among the highest.
'Wearing Thin'
Major tech companies, including Google Inc. and Apple Inc., released payroll details last year that showed that about 30 percent of their employees were female, with Asian and white men having the vast majority of technical jobs. The startup and investing culture in Silicon Valley is also heavily male; the number of female venture capital partners shrank to 6 percent last year from 10 percent in 1999, according to research by Babson College.
"Women's patience for this sort of thing is wearing thin," Cranston said.
Pao's suit against a venture capital firm is important "because it goes after a segment of companies that typically aren't held to account like the bigger corporations," said Rayona Sharpnack, chief executive officer of the Institute for Women's Leadership in San Rafael, California.
"This is supposed to be a hotbed of innovation run by the next generation," she said. "Still, the power base is made up of 50-plus white males."
Simply Unaware
Sharpnack and the other women were attending a conference in New York organized by Catalyst, a nonprofit that advocates for more opportunities for women in business. At one of the event's sessions, Mike Wirth, an executive vice president from Chevron Corp., recounted how he once selected white males for a management team of nine people. He was simply unaware of the group's lack of diversity, he said, until female and minority staffers pointed it out.
Some of Pao's discrimination claims "don't amount to gross misconduct," said Betsy Van Hecke, a corporate lawyer from Minneapolis. That reflects "where we are as a society," when bias is often unconscious and unintentional, she said. "These are thornier issues, such as 'do people fit in?'"
Rather than complain or sue, many women simply move to different jobs, often in other industries. That will no doubt continue to happen, Cranston said.
"Women do have options today," she said. "They vote with their feet."
Before it's here, it's on the Bloomberg Terminal.
LEARN MORE