Jobless Claims in U.S. Decline to Lowest Level in Five Weeks
Nina Glinski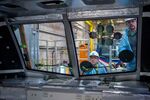 Fewer Americans than forecast filed applications for unemployment benefits last week as improved weather conditions ushered in labor-market stabilization.
Jobless claims fell by 9,000 to 282,000 in the seven days ended March 21, the lowest level since mid-February, a Labor Department report showed Thursday in Washington. The median forecast of 52 economists surveyed by Bloomberg called for 290,000. Another report showed consumer confidence climbed last week to match the second-highest level since July 2007.
A sustained low level of applications, which shows that employers are holding on to workers, typically coincides with more hiring. Continued gains in employment was one of the two signals, along with a pickup in inflation, that Federal Reserve officials last week said were necessary before raising rates.
"If we continue to see claims down here, you can expect to see more payroll gains," said Raymond Stone, managing director at Stone & McCarthy Research Associates in Princeton, New Jersey. "The good, strong gains we've seen in payrolls will continue."
The Bloomberg Consumer Comfort Index rose to 45.5 in the period ended March 22 from 44.2 the prior week, propelled in part by gains among lower-income earners and job seekers as the labor market improves, according to a report Thursday. Measures of the economy, buying climate and households' financial well-being all improved.
Shares Drop
Stocks fell as chipmakers and biotechnology shares tumbled and Saudi Arabia and its allies started bombing Shiite rebels in Yemen. The Standard & Poor's 500 Index dropped 0.7 percent to 2,047.55 at 10:20 a.m. in New York.
Economists' claims estimates in the Bloomberg survey ranged from 280,000 to 310,000. The previous week's figure was unrevised at 291,000.
The four-week moving average, a less volatile measure than the weekly numbers, declined to 297,000 last week, from 304,750.
The Labor Department's claims figures showed no states estimated data last week and there was nothing unusual in the report, an agency spokesman said as the results were released to the press.
The number of people continuing to receive jobless benefits dropped by 6,000 to 2.42 million in the week ended March 14. The unemployment rate among people eligible for benefits held at 1.8 percent, where it's been all year. These data are reported with a one-week lag.
Economy Slowing
Other figures this month have shown the economy is struggling to shake off winter doldrums. While purchases of new homes unexpectedly climbed in February, housing starts slumped, industrial production cooled, retail sales weakened, and orders for durable goods unexpectedly dropped.
Softer growth could delay the Fed in making its most highly anticipated move this year. Last week, policy makers said they needed to be convinced inflation would eventually accelerate before raising interest rates. Sustained employment strength was also cited as a prerequisite.
In an environment of accelerating employment growth, many weekly firings may also reflect company- or industry-specific causes, such as cost-cutting or business restructuring, rather than underlying labor-market trends.