For House Speaker John Boehner, It's Been a Very Good Week
Legislative victories mark quite a turnaround from the early months of this session for the top House Republican.
By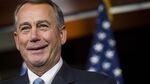 House Speaker John Boehner had a very good week.
Not only did the much-maligned Republican leader get his rank-and-file members to adopt their party's version of a fiscal 2016 budget, Boehner also oversaw passage of a measure to change the way doctors are paid for treating Medicare patients. The vote on the so-called "doc fix"—a solution to these payments that had long eluded congressional leaders—had a huge margin of victory, 392-37.
The doc-fix bill "will be the first real entitlement reform that we've seen in nearly two decades, and that's a big win for the American people," the speaker gushed at a news conference.
The Senate on Thursday still hadn't taken up physicians' payment measure, and was working to finalize action on its budget plan. Even so, this week for Boehner has represented quite a turnaround from the early months of this session, which hadn't been playing out so well despite the Republicans' 245-188 seat majority in the chamber.
In the session's first hours, the Ohioan had to face down a conservative revolt in being elected to a third, two-year term as speaker. Twenty-four of his fellow Republicans voted against him, and one preferred to just vote "present." A series of legislative miscalculations and miscues then followed, much of it driven by intra-party dissension and mutiny. Top-priority bills ticketed for passage were pulled from the floor, and even abandoned altogether.
What stuck was a picture of a leader who was unable to lead, largely because of the demands of a so-called "hell no" caucus of 40 to 50 restive Tea Party conservatives.
Boehner appeared to hit rock bottom when the internal dissent led to a near shutdown of the Department of Homeland Security in a funding flap, sparking revitalized talk of conservative maneuvering to try and dump Boehner as speaker.
Just weeks later, things appear to be turning in Boehner's favor. Still, the question remains: Is this a meaningful winning streak for Boehner, one likely to last? Some professed optimists say he has conquered his troubles.
"I do think it is a harbinger of things to come," said House Appropriations Chairman Harold Rogers of Kentucky in an interview Wednesday. Rogers said that knowing the 12 annual appropriations bills that come due on Oct. 1 will likely represent some major internal Republican turmoil of policy and spending.
"We're moving in the right direction," said Representative Tom Cole of Oklahoma, who is close to Boehner. Cole characterized passage of the "doc fix" bill as a major test.
Still, Boehner and his caucus will face major tests this spring, soon after they return in April from a two-week spring break. Already, with lawmakers facing a May 31 deadline for replenishing a fund to pay for highway infrastructure improvements, there is talk that an extension will be needed because lawmakers won't be able to come up with a plan in time.
A decision also is due by June 30 on whether to reauthorize the Export-Import Bank—an issue that sharply divides congressional Republicans. And although federal tax revenue has increased recently, the Congressional Budget Office estimates that lawmakers in September or October will have to address raising the nation's debt ceiling. That's an issue that caused stand-offs two years ago leading to a partial government shutdown.
This leads some lawmakers to question whether Boehner really has turned a corner. And in pointing out why, some suggest there were peculiar characteristics this week in the legislation Boehner successfully got through.
"One of them was Republican red meat, after all," said House Democratic Caucus Vice Chairman Joseph Crowley of New York, referring to the Republican budget that was adopted.
Crowley noted a party's budget framework is—by design—supposed to lay out a vision of Republican priorities. Even so, he said, Boehner was forced to embrace a multiple-choice strategy by putting different versions on the floor for a vote to satisfy his own conference over defense spending.
And Crowley noted that 17 House Republicans still voted against the budget plan.
As for the "doc-fix bill," Crowley said Boehner and Pelosi have been working for some time on a bipartisan approach, and opposition "was next to nil in our party." He said this really had "nothing" to do with any breakthrough by Boehner regarding his own party's internal divisions—or any sign that Boehner is now, without Democratic help, somehow more poised for success in the upcoming issues. In fact, 33 House Republicans voted against that bill.
Boehner himself did not directly answer a question at a news conference about whether the bills passed this week represented a sort of new day for the House, or not really.
"We've got a lot of tough issues to deal with here in the Congress," he said.
"So, as we get into these other challenges facing us in the coming months we're going to try to work together with my colleagues—and Democrats if they are willing—to do the right thing for the American people. It's the way the legislative process is supposed to work," he said.
Has Boehner identified any areas where he might want to rely again on Pelosi and Democrats for bipartisan passage? His answer did not project certainty.
"When I see one, I'll let you know," he said.