Europe's Lost Iran Trade May Signal U.S. Sanctions Split
Jonathan Tirone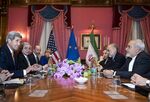 After joining the U.S. in confronting Iran for a decade, Europe is running out of leeway to increase sanctions if talks on the Iranian nuclear program fail.
Trade between Europe and Iran has plunged to about $9 billion from almost $32 billion in 2005 when sanctions began to be tightened, according to data compiled by Bloomberg.
As diplomats work toward a self-imposed March 31 deadline, the disparity between U.S. and European economic engagement with Iran adds an incentive to reach an agreement and avoid a potential trans-Atlantic rift over expanded penalties. It also may signal the limits of European tolerance for threats by U.S. lawmakers to toughen sanctions should talks collapse.
"There is not much room to tighten sanctions further to any meaningful extent," said Ian Kearns, head of the London-based European Leadership Network, an advisory group led by former European Union officials. "Sanctions have delivered pretty much all the impact they can be expected to deliver."
International sanctions were first introduced against Iran in 1979 after the Islamic revolution and the hostage crisis at the U.S. embassy in Tehran. By the next year, U.S. trade was worth less than $500 million while for European countries, it was more than $10 billion.
As European exports of machinery and industrial equipment to Iran tailed off over the next three decades, China stepped in to fill the void. By 2013, China was Iran's biggest trading partner, with more than $41 billion in economic links.
'Bad Deal'
Negotiators from the five world powers -- the U.S., the U.K., Russia, France and China -- plus Germany are seeking to negotiate the framework for an agreement to resolve the dispute and stop Iran from obtaining nuclear weapons. U.S. Secretary of State John Kerry and Iranian Foreign Minister Mohammad Javad Zarif resumed talks in Switzerland on Thursday.
Republican Senator Mark Kirk said he'll seek to force a symbolic vote this week on increased U.S. sanctions during debate on the federal budget. Senate Foreign Relations Committee Chairman Bob Corker says his committee will consider new legislation on April 14 that could make suspension of sanctions under any deal more difficult.
The six-nation group already faces opposition from Israel and U.S. members of Congress. In a speech to Congress on March 3, Israeli Prime Minister Benjamin Netanyahu called the emerging agreement "a very bad deal" that would leave Iran with a "vast nuclear" program. Israeli voters re-elected his Likud bloc less than two weeks later.
'Game Changer'
The European Union isn't alone in imposing sanctions on Iran. Since the U.S. and the United Nations also enacted punitive measures, any relief will take into account "the existence of these three distinct but overlapping sanctions regimes," the U.K. Foreign Office said in an e-mail when asked about the potential gains from an easing of sanctions. "We will not do a bad nuclear deal."
France's government press office cited comments by Foreign Minister Laurent Fabius on March 21 that France "wants an accord, but a robust accord" that denies Iran nuclear weapons.
"We aren't there yet," German Foreign Ministry spokesman Martin Schaefer told reporters in Berlin on Friday. "If it doesn't work out, there's the risk that escalation potential of the problem of Iran's nuclear program increases, and we won't have gained anything."
The U.S. shouldn't count on Europe to acquiesce to calls to isolate Iran still further if talks fail, said Richard Dalton, the U.K.'s former ambassador to Iran.
"As things are shaping up now, it doesn't seem like it would be easy to say the fault or the failure comes fully down to the Iranians," he said by phone. Instead, "if the failure happens now, it may be because of something which the U.S. either does or is incapable of doing."
'Should be Clear'
Already, German Foreign Minister Frank-Walter Steinmeier, in a rare intervention into U.S. affairs, said that a letter sent by 47 Republicans to Iran's leaders warning that lawmakers could undo any agreement was "not helpful."
Germany's trade ties with Iran date back to 1602 when Habsburg emperor Rudolf II sent an envoy to the shah's court, according to the German-Iranian Chamber of Industry and Commerce.
"It should be clear that the EU and the U.S. have their own independent policies," said Marietje Schaake, a Dutch member of the European Parliament. "The deep appreciation by Iranians for anything from German technology to Italian art can prove to be an important ground on which relations can be rebuilt."
Iran now offers German companies the vista of becoming a platform to boost exports in the wider region, said Ludovic Subran, chief economist at Paris-based trade-credit insurer Euler Hermes.
"Iran could be the next anchor to the Middle East to lower production costs," said Subran, who visited Iran in November. "Iran is a major game changer for the Middle East, a country of 80 million people who can be the next generation of bankers, insurance experts. For Europe, to be quicker than America could be a new green shoot for exports."
Europe's Leverage
As trade and financial links with Europe dried up under sanctions, Iran expanded economic ties with China, India, Turkey and Brazil, boosting its global trade by 70 percent to $150 billion between 2005 and 2013.
If U.S. lawmakers scuttle a potential deal with Iran, "that's a huge problem for European foreign policy in the long run," said Ellie Geranmayeh, a fellow at the European Council on Foreign Relations.
U.S. diplomats recognize Europe's sway in the bargaining, since EU sanctions on Iran would be difficult to restore once they were lifted, said Jofi Joseph, a former White House official who negotiated with Iran until 2013. As a first step of a possible deal with Iran, U.S. officials would expect Europe to suspend trade curbs rather than scrap them.
"If the EU were to repeal sanctions, they could be hard to reapply" because all 28 EU countries would have to agree, Joseph said. "It's a quirk in EU politics of which negotiators are well aware."
Before it's here, it's on the Bloomberg Terminal.
LEARN MORE