Cravath, Kirkland, S&C on Kraft-Heinz Deal: Business of Law
Ellen Rosen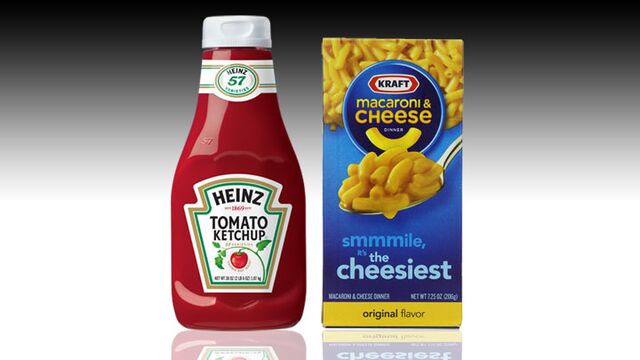 Cravath, Swaine & Moore LLP and Kirkland & Ellis LLP represented H.J. Heinz Co. in the approximately $46 billion deal to merge with Kraft Foods Group Inc. Sullivan & Cromwell LLP represented Kraft, while Munger, Tolles & Olson LLP represented Berkshire Hathaway Inc., which co-owns Heinz with Brazilian private-equity firm 3G Capital.
Under the terms of the deal, Kraft shareholders will receive 49 percent of the stock in the combined company, plus a special cash dividend of $16.50 a share, the companies said in a statement Wednesday.
Berkshire and 3G will invest $10 billion in the new business, which will be known as Kraft Heinz Co. It will have headquarters in Pittsburgh and the Chicago area, with current Heinz Chief Executive Officer Bernardo Hees remaining as CEO of the combined company.
Leading the team from Cravath representing Heinz are partners Scott Barshay, Eric Schiele and Jonathan Davis.
The Kirkland team representing Heinz includes corporate partners Jay Ptashek, Josh Korff, Bill Sorabella, Michael Kim and Nick Schwartz.
The Munger Tolles team includes partners Robert Denham, Mary Ann Todd, Judith Kitano and Stephen Rose.
From Sullivan & Cromwell advising Kraft are corporate partners Frank Aquila and Audra D. Cohen, securities partner Cathy Clarkin and antitrust partner Steve Holley.
The companies prepared for the inevitable onslaught of investor lawsuits with one peremptory action: Kraft filed an 8-K with the U.S. Securities and Exchange Commission on Tuesday disclosing that it had adopted an exclusive forum bylaw mandating that shareholder suits be filed in Virginia, where Kraft is incorporated.
Claudia Allen, a partner at Katten Muchin Rosenman LLP who specializes in corporate governance, said in a telephone interview Wednesday that it's "not uncommon for companies to adopt these bylaws when they're about to enter into a merger agreement. We see it all the time."
Allen, whose firm wasn't involved in the deal, added that there's legislation awaiting the signature of Virginia governor Terry McAuliffe specifically to permit companies incorporated in the state to adopt these laws.
A bigger question for football fans is the deal's impact on Heinz Field, the Pittsburgh Steelers' 65,000-seat stadium. After the merger is completed, however, the field will continue to use that name, Bloomberg's Mason Levinson reported Wednesday.
Once the deal has closed, the company will own many well-known brands -- everything from Heinz Ketchup to Kraft's Kool-Aid. Its revenue will be approximately $28 billion.
Although the companies sell many grocery store staples, there may not be antitrust concerns. Bloomberg's Ed Hammond and Jeffrey McCracken reported that Fiona Scott Morton, a former chief economist with the Justice Department's antitrust division and now at the Yale School of Management, explained in an interview that "their brands don't compete, and in mergers of consumer packaged-goods companies, products can be sold easily if regulators are concerned about the loss of competition between any of them."
Lawsuit News
Pao's Case Against Kleiner Perkins Heads to the Jury
After two days of closing arguments and a month of testimony, the sex-discrimination case brought by Ellen Pao against venture capital firm Kleiner Perkins Caufield & Byers has gone to the jury.
Pao, a former junior partner, claims she was wrongly denied a promotion and retaliated against for complaining to her bosses about discrimination.
"She realized that the culture needed to change," Pao lawyer Therese Lawless said Wednesday in her final pitch to jurors in state court in San Francisco. "It had a very negative repercussion on the women who were trying to move up at the firm."
Partners at Kleiner Perkins claimed Pao made baseless allegations of discrimination after a record of poor performance.
"Ellen Pao failed for one reason and one reason only: Her view of her skills and performance were far different from the view of Kleiner Perkins," Lynne Hermle, an attorney for the firm, and a partner at Orrick, Herrington & Sutcliffe LLP, argued to the jury.
The jury of six men and six women will now decide whose story they believe in the suit, which has captivated Silicon Valley.
For more, click here.
Firm News
Squire Patton Boggs Hires Intellectual Property Lawyer
Squire Patton Boggs has hired Bryan Schwartz as a principal in its intellectual-property and technology practice based in Cleveland. He previously was a partner at Benesch, Friedlander, Coplan & Aronoff LLP. He specializes in what's known as section 337 investigations before the International Trade Commission and also litigates other intellectual-property disputes.
K&L Gates Hires Ex-CFPB Deputy Enforcement Director Ori Lev
K&L Gates LLP has hired former Consumer Financial Protection Bureau deputy enforcement director for litigation Ori Lev as a partner in its consumer financial services practice in Washington.
Prior to working at the CFPB, Lev served as the chief of enforcement for the Treasury's Department's Office of Foreign Assets Control and as a litigator for the Justice Department and the Federal Trade Commission. His practice includes litigation, government enforcement, and regulatory compliance affecting banks and other consumer financial services companies. Lev will join in June.
WilmerHale Hires Three Partners for Denver Office
Wilmer Cutler Pickering Hale & Dorr LLP has hired Natalie Hanlon Leh, Mary Sooter and Benjamin Fernandez as partners in the Denver office as members of the litigation/controversy and intellectual-property departments.
Hanlon Leh focuses on patent cases and also works on trademark, copyright, trade dress and trade secret litigation. Sooter is a patent litigator with experience in electrical engineering, telecommunications and computer science. Fernandez's practice is a combination of patent prosecution and portfolio management, due diligence, licenses, and freedom-to-operate advice, and patent litigation support.
All three were previously partners at Faegre Baker Daniels LLP.
Before it's here, it's on the Bloomberg Terminal.
LEARN MORE