Cooperman's Omega Hedge Fund Receives Federal Subpoenas
Saijel Kishan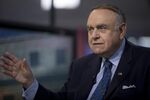 Leon Cooperman's $9.4 billion hedge fund firm Omega Advisors was subpoenaed by the U.S. Attorney's Office in New Jersey and the U.S. Securities and Exchange Commission, which are seeking information on trading in certain securities.
Cooperman, the billionaire founder of Omega, said that the inquiries are at a "very early stage" and no one at the firm has been accused of any wrongdoing, according to a letter he sent to clients on Tuesday. The 71-year-old said that his firm is cooperating with both agencies and "is highly confident that it and its employees have at all times acted properly and lawfully."
Cooperman, a regular guest on financial news television, invests mainly in equities that he expects to rise. He started Omega in 1991 after spending 25 years at Goldman Sachs & Co., where he had started the bank's asset management unit. The inquiry comes as the U.S. investigates wrongdoing on Wall Street, which included a crackdown on insider trading that ensnared hedge funds such as SAC Capital Advisors and Galleon Management.
"Had the authorities asked us to do so, we would have voluntarily provided them with all the information they seek, but they chose instead to pursue a different tack," Cooperman said in the letter.
He declined to comment on the letter when contacted by Bloomberg News, as did Florence Harmon, an SEC spokeswoman. Matthew Reilly, a spokesman for Paul Fishman, the U.S. attorney in New Jersey, said he could neither confirm nor deny the existence of an investigation.
Graham Disciple
Omega has returned an annual average of 11.1 percent from inception in 1991 through 2014, according to an investor letter. Last year, after Omega declined 2.8 percent amid the slide in oil prices, Cooperman said he was embarrassed by the losses.
Cooperman in his investor letter cited Benjamin Graham, a Columbia Business School professor who is seen as one of the fathers of value investing. According to Graham, Cooperman wrote, a prudent investor evaluates management by studying the company's financials and judging their responses "in face-to-face meetings to probing questions."
"This discipline has always been a hallmark of Omega's investment process," Cooperman said in the letter, which was reported earlier by CNBC.
Bronx Upbringing
The son of a plumber, Cooperman grew up in the South Bronx and graduated from Columbia University's business school before making his name at Goldman Sachs. He's among the hedge fund billionaires who agreed to give the majority of their wealth to philanthropy under billionaire Warren Buffett's Giving Pledge program.
Cooperman owns properties in New Jersey as well as in Boca Raton, Florida, where he voted in the last general election.
In 1998, Cooperman bet big on emerging markets -- and lost. The misstep was compounded by Omega's investment of more than $100 million with Czech financier Viktor Kozeny in a plan to take over Azerbaijan's state oil company. New York state prosecutors accused Kozeny of stealing Cooperman's investment, while U.S. prosecutors said Kozeny led a multibillion-dollar bribery scheme in connection with the Azeri deal.
In 2007, Omega paid $500,000 to the U.S. to resolve the bribery investigation. Omega didn't admit wrongdoing while it accepted legal responsibility for the actions of an employee who admitted joining Kozeny's bribery scheme. Kozeny denied wrongdoing.
In all, Omega lost a total of $500 million, or 13 percent of its total assets in 1998, after which Cooperman fired almost the entire emerging-markets team. He later recovered some of the money. He called the episode the worst chapter of his life.
Before it's here, it's on the Bloomberg Terminal.
LEARN MORE