Suicide in Focus After Germanwings Pilot Brings Down Jet
Andrea Rothman and Richard Weiss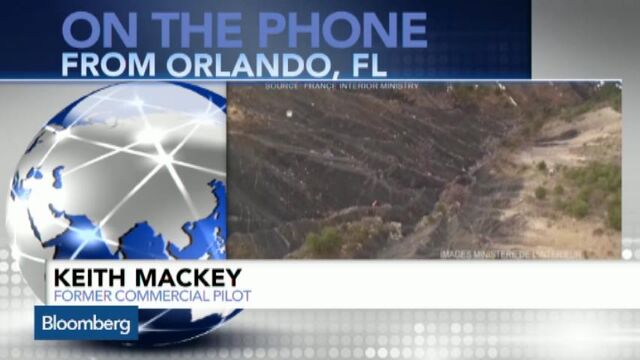 The Germanwings crash on Tuesday that killed all 150 people on board appears to have been orchestrated by the co-pilot, who deliberately flew the aircraft into a mountain after locking the captain from the cockpit.
The revelation adds to the rare examples in aviation history where pilots apparently chose to bring a plane down or to an unscheduled destination.
Following is a list of incidents linked to pilot suicide or foul play in the cockpit, compiled from Bloomberg reports and data by Aviation Safety Network.
-- Malaysian Airlines, March 2014. Flight 370 dropped from radar after veering from planned flight path and never heard from again. 239 people assumed dead, no debris found, despite continued search effort. Deliberate pilot action is one of several hypotheses, no resolution.
-- LAM Mozambique Airlines: 2013. Pilot "intentionally" brought down Embraer 190 in a crash that killed 27 passengers and six crew members, Agence France-Presse reported, according to findings from a preliminary investigation based on flight recorder data.
-- EgyptAir Flight 990. 1999. Co-pilot crashed the plane off New England, killing 217. Motive identified as "revenge" by sources in investigation after co-pilot earlier reprimanded for sexual misconduct. Pilot managed to re-enter the cockpit after plane began sharp descent, though in trying to pull it up broke the aircraft.
-- Air Botswana, 1999. Pilot grounded for medical reasons took off in an ATR42 and made various demands by radio before crashing into two similar planes; one fatality.
-- Silk Air Flight 185. 1997. Pilot believed to have deliberately crashed plane on route to Singapore from Jakarta; 104 fatalities. No official confirmation.
Before it's here, it's on the Bloomberg Terminal.
LEARN MORE