Chief Paranoia Officers Aren't so Sure About Those Euro Hedges
There's no guaranteed way to hedge currency risk
by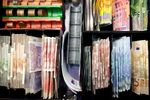 Here's a type of chart you rarely see outside of penny-stock scams and maybe TV news-channel ratings when a llama chase is unfolding live:  

The graph shows the number of shares outstanding in the WisdomTree Europe Hedged Equity Fund, an ETF that aims to give investors the returns from European stocks without all the risk from the euro currency. So, in other words, investors really, really, really want to hedge against the euro, causing the ETF to increase shares outstanding by more than 250,000 percent.
The ETF does the hedging through short positions in one-month forward contracts versus the dollar, essentially shorting the euro via derivatives that lock in exchange rates for later use. Says WisdomTree: "We believe that currency hedging in the developed international equity space will be one of the most important portfolio considerations over the next three to five years." The chart above sort of shows that many people agree. 
These same types of derivatives are popular with U.S. companies looking to hedge their sales in Europe and other countries whose currencies are weakening versus the dollar. As St. Louis Federal Reserve Bank  President James Bullard said this week, the impact of the dollar's strength on economic growth should be "relatively small" since companies are able to hedge. 
Are companies as confident as he is in their currency hedging abilities?  The stronger dollar was a theme of many earnings disappointments this year, from Tiffany & Co. to Procter & Gamble Co. And if you read through companies' quarterly and full-year filings with the Securities and Exchange Commission, it's clear that the ability to regularly and effectively hedge currency risk is never a given, especially the longer those "unfavorable fluctuations" keep going.
Granted, most of the discussion of currencies occurs in the "Item 1A. Risk Factors" sections of these filings, which are not exactly marketing material. In fact, they all read like they were written either by short-sellers or C-Suite worry warts whose job titles could only possibly be "Chief Paranoia Officer." Among Gap Inc.'s risk factors, for example, are lengthy discussions of what might happen if people don't like the clothes they put on the shelves, or if hackers steal their customer data, not to mention all the wars and tornados and assorted disasters that could hurt sales. And this:
...we are exposed to foreign currency exchange rate risk with respect to our sales, inventory purchases, operating expenses, profits, assets, and liabilities generated or incurred outside the U.S. Although we use instruments to hedge certain foreign currency risks, these measures may not succeed in fully offsetting the negative impact of foreign currency rate movements and generally only delay the impact of adverse foreign currency rate movements on our business and financial results. 
In its last fiscal year, Gap notes, the weakness in the Canadian and Japanese currencies in particular had a big impact on their results and "we expect this impact to continue in fiscal year 2015." A few stores down in the mall, L Brands Inc. is worried about much of the same things:
Although we use foreign currency forward contracts to hedge certain foreign currency risks, these measures may not succeed in offsetting all of the short-term negative impact of foreign currency rate movements on our business and results of operations. Hedging would generally not be effective in offsetting the long-term impact of sustained shifts in foreign exchange rates on our business results.
Chiquita Brands International Inc. hedges the risks in simple ways ("exchanging local currencies for dollars promptly upon receipt") and fancier ways in the options market:
We further manage our currency exposure with hedging instruments, such as average rate euro put options, collars and forward contracts, to hedge the dollar value of our estimated euro net sales exposure up to 18 months in the future.
 And here's Nike Inc.:
Foreign currency fluctuations have adversely affected, and could continue to have an adverse effect on our results of operations and financial condition. We may hedge certain foreign currency exposures to lessen and delay, but not to completely eliminate, the effects of foreign currency fluctuations on our financial results. Since the hedging activities are designed to lessen volatility, they not only reduce the negative impact of a stronger U.S. Dollar or other trading currency, but they also reduce the positive impact of a weaker U.S. Dollar or other trading currency. Our future financial results could be significantly affected by the value of the U.S. Dollar.
It's enough to make your head spin! Or, in accountant speak, make your head experience an unfavorable fluctuation. 
"From an analyst's perspective, dealing with foreign exchange translation and hedges can be frustrating and time consuming," Brian Jacobsen, chief portfolio strategist for Wells Fargo Funds Management, said in an e-mail. "The management discussion and analysis can be illuminating, but there's not an easy way to parse out precisely what a company is doing just from its financial statements."
That could change to some extent. The Financial Accounting Standards Board has proposed updating its standards to require companies to disclose more information about certain types of hedges. 
In the meantime, we'll all have to settle for an item or two from Item 1.
Before it's here, it's on the Bloomberg Terminal.
LEARN MORE