Japan's Inflation Gauge Halts at Zero in February
Toru Fujioka and Masahiro Hidaka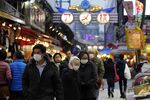 The Bank of Japan's key inflation gauge ground to a halt as consumer spending slumped, highlighting weakness in the nation's recovery from recession.
Consumer prices excluding fresh food rose 2 percent in February from a year earlier, less than a median estimate of 2.1 percent. The central bank's measure that strips out last year's sales-tax increase showed inflation at zero.
Declines in household spending and retail sales, even as the labor market tightens and prospects for wage gains improve, indicate the lingering effect of an increase in the sales tax last year. While BOJ Governor Haruhiko Kuroda has said that any drop in prices will be temporary and won't stop the bank reaching its 2 percent target, economists surveyed by Bloomberg expect an extra dose of monetary stimulus by October.
"Households are still suffering from that sales-tax hike from last April," Takuji Okubo, an economist who founded Japan Macro Advisors in Tokyo, said in a Bloomberg Television interview. "This is again bad news for the Japanese economy," he said of the spending figures.
Household spending dropped 2.9 percent from a year earlier, while retail sales fell 1.8 percent.
Even so, historically high wage gains and energy price declines mean things should improve, so the BOJ "should sit tight" on monetary policy, Okubo said.
Oil Plunge
The Topix index of shares declined 0.2 percent at 9:56 a.m. in Tokyo while the yen was little changed at 119.18 per dollar.
Oil prices have tumbled about 50 percent since June last year, countering early progress the BOJ made in generating inflation with unprecedented asset purchases that Kuroda began in April 2013. At the time, he said he aimed to achieve the BOJ's 2 percent target in about two years.
The BOJ over-committed itself when it set set two-year timeframe to achieve the inflation target, Takao Komine, a professor at Hosei University who used to the head of price department at a government economic agency, said in interview on March 23.
Big companies are giving a pay raise of about 2.4 percent in the fiscal year starting in April, the largest in 17 years, according to preliminary results of annual wage talks compiled by the Japanese Trade Union Confederation.
Economic Assessment
The government raised its assessment of the economy for the first time in eight months on March 23, citing improvement in the corporate sector. Exports in February rose for the sixth consecutive month.
Twenty-three of 34 economists said the BOJ will expand stimulus by the end of October, according to Bloomberg survey conducted March 5-12.
Dubai crude oil -- a benchmark for Middle East supply to Asia -- has fallen about 50 percent from its level last June. Japan imports almost all of the oil it uses.
Before it's here, it's on the Bloomberg Terminal.
LEARN MORE