Alcoa Loan Reboots Maligned U.S. Clean-Energy Loan Program
Jeff Plungis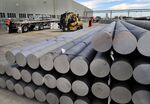 A $25 billion U.S. Energy Department loan program that funded flops like Fisker Automotive Inc. and successes such as Tesla Motors Inc. resumed lending after a four-year hiatus to retool the lending project's focus.
Alcoa Inc. has been tentatively approved for a $259 million loan from the Advanced Technology Vehicles Manufacturing program to upgrade a factory making high-strength aluminum that can improve automobile gas mileage.
"The ATVM program is back in business," said Peter Davidson, the executive director of the Energy Department's various lending projects. The Alcoa loan was announced Thursday.
The vehicle program and two related energy financing initiatives created as part of a 2008 economic stimulus law had become lightning rods for criticism following the 2011 bankruptcy of solar-panel maker Solyndra LLC and the 2013 failures of Fisker and wheelchair vanmaker Vehicle Production Group LLC.
Despite the failed loans, the Energy Department's portfolio has performed well, with losses totaling less than 3 percent, Davidson said.
"If you compare that to banks, it's a very good number," he said in a telephone interview.
The Alcoa loan, which will become final when the company meets conditions set out by the government, will help the company upgrade a plant in Tennessee that supplied the metal for the new all-aluminum body Ford Motor Co. F-150 pickup truck unveiled last year. Carmakers have begun experimenting with swapping out steel for high-strength aluminum to reduce the weight of their vehicles, which improves gas mileage.
Jobs Created
When the loan closes, Alcoa will use the money to expand production, adding 200 permanent jobs and 400 jobs at the peak of construction.
"Alcoa is pleased to be part of the government's program to encourage a greater shift to aluminum-intensive vehicles that are safer, lighter and more fuel-efficient," Chairman and Chief Executive Officer Klaus Kleinfeld said in a statement.
Originally conceived as a $25 billion program to promote clean energy, ATVM still has more than $16 billion to lend. The program's authority doesn't expire, though Republicans in Congress continue to criticize the risk to taxpayers from such government loans.
The Government Accountability Office has said the program has underestimated the costs of providing credit subsidies and needed more technical oversight to monitor the loans it has made.
'Distorted' Market
Since the last ATVM loan, two of the five previous recipients have gone out of business: Fisker, a builder of high-end battery-powered cars, and Vehicle Production Group, which had sought to make wheelchair-accessible minivans for local transit agencies that would be powered by natural gas.
Private investors squandered more than $1 billion on Fisker after it got the Energy Department's backing, said Nicolas Loris, an energy economist at the Heritage Foundation, a Washington-based policy group that advocates limited government.
"The focus shouldn't be on creating these niche programs that protect specific industries," Loris said in an interview. "We shouldn't distort capital markets by having the government play investment banker."
The ATVM program has been revamped since the current U.S. Energy Secretary, Ernest Moniz, took over, Davidson said. Energy Department officials spent months talking to the auto industry, clearing up confusion about the program, he said.
Upgraded Factories
ATVM loans have helped retool 17 auto plants, and it's one of the ways the industry is reducing greenhouse-gas emissions, according to the BlueGreen Alliance, an umbrella group representing labor and environmental organizations. The $8 billion lent by the government has been matched by $14 billion in private investment, the group said.
"It's not enough to use the latest, best, cleanest technology," Kim Glas, the alliance's executive director, said in a statement. "We have to re-invest in the people, plants, and technology in order to realize the all of the benefits manufacturing advanced vehicles have to offer."
The Energy Department's focus has shifted from investments in automakers building electric vehicles to suppliers making parts that can lead to more fuel-efficient cars and trucks, Davidson said. That includes companies like Alcoa, which are involved in supplying lighter-weight materials, he said.
More Applications
The program is receiving more loan applications since it's made clear it will fund parts suppliers as long as it can verify that at least half of their production will go toward models that qualify as advanced-technology vehicles -- meaning they're electric-powered or save at least 25 percent of fuel compared with base 2005 models.
Davidson's office has 160 people evaluating loan applications, and he said they're looking to make sure all of the necessary business arrangements are in place before issuing a loan. It's the largest project financing bank in the U.S., he said.
The Energy Department issued a report late last year saying it's already collected enough interest payments to offset the losses on loans to Solyndra, Fisker and others -- more than $810 million versus $780 million in loan losses. The department expects to collect more than $5 billion in interest over the life of the outstanding loans.
The program's biggest success story has been Tesla, the electric-car maker led by Elon Musk. The company paid back its $465 million federal loan nine years early and the interest in its cars has pushed the company's stock market value to about $24 billion as of Wednesday. Ford and Nissan Motor Co. also received money from the program and kept up with their payments.
Before it's here, it's on the Bloomberg Terminal.
LEARN MORE