Adidas Sees Higher Profit Growth as CEO Tries to Move Faster
Aaron Ricadela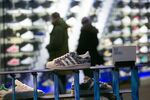 Adidas AG pledged to accelerate product development and shift spending to some of the world's biggest cities as Chief Executive Officer Herbert Hainer starts his last attempt to revamp the ailing German athletic-goods company.
Adidas aims to win market share in New York, Paris and other global hubs, get new sneakers into stores more quickly and bring more athletes and designers into the fold. The company forecast currency-adjusted sales will grow by "high single digits" annually from next year through 2020 to top 22 billion euros ($24 billion). Profit will increase 15 percent on average each year over the period, it said.
"We lost some of our brand desirability because we didn't focus enough on the needs of our consumers," Hainer said at the company's headquarters in Herzogenaurach. "We don't need to win everywhere, but we need to win where the halo effects are created. We need to put our money where we can make a real difference."
The plan is a late-career bid by Hainer to halt a slide in market share and profit that's seen Adidas slip further behind top supplier Nike Inc. Last year, Adidas dismayed investors with profit outlook cuts and its stock lost 38 percent, the worst in Germany's DAX Index.
"Given their track record, I don't expect the market to align immediately on these targets," said Cedric Rossi, an analyst at Bryan Garnier & Co. who forecasts 6 percent to 6.5 percent sales growth from 2016 through 2020.
Some Unconvinced
According to analyst estimates compiled by Bloomberg, revenue will reach 20.8 billion euros by 2020, with net income growth of 14 percent in each of the next two years.
Adidas was little changed at 70.44 euros as of 2:34 p.m. in Frankfurt, withstanding a 1.4 percent slide in the DAX.
Hainer, the CEO of 14 years, is asking investors to give his new plan a chance after two previous ones failed to deliver, though some remain unconvinced.
"The crux of the matter at Adidas is the weak profitability -- we're hearing little about that," said Ingo Speich, a fund manager at Union Investment, which holds 1.3 percent of Adidas shares.
The company, whose famous three-stripe logo has graced European soccer uniforms for half a century, said last month that it's started a search to replace Hainer. The 60-year-old executive's contract runs through March 2017.
Hainer's Tenure
After a long and successful run, Hainer's tenure has been marred by more recent missteps. Adidas abandoned a prior plan last summer that had called for 17 billion euros in sales and an 11 percent operating margin this year. Profit last year plunged 38 percent to 490 million euros and sales were 14.5 billion euros.
Adidas also pledged Thursday to pay 30 percent to 50 percent of profit to shareholders in dividends, up from a previous ratio of 20 percent to 40 percent.
The company will focus on speed to market, a 25 percent reduction in the number of models it sells, and quadrupling e-commerce sales to more than 2 billion euros by 2020, Hainer said. Adidas will run more automated factory pods that can produce running shoes more quickly next year, and it plans to roll the technology out to soccer and basketball shoes in 2017.
The world's second-biggest sporting-goods maker will funnel more investment to winning business in six cities, saying that Los Angeles, New York, London, Paris, Shanghai and Tokyo is where trends are set.
"Our business in London today is bigger than our business in Finland," Hainer said.
Third Prong
Pursuing more sales from large cities is the right strategy, according to Bryan Garnier's Rossi -- Nike and consumer brands such as glasses maker Luxottica Group SpA and L'Oreal SA are also chasing urban buyers.
The third prong of the company's new strategy is to strengthen ties with consumers and athletes to give them more input into the company's design process. For instance, buyers of Adidas' ZX Flux sneaker can custom print a photo onto their shoes using a smartphone app and the company wants to bring consumers into other areas of design, global brand chief Eric Liedtke said in an interview.
"The things we do now are very one-directional," he said. Adidas wants to use the Internet to build communities of consumers that can generate momentum for its brands. "It has to be within bounds, otherwise you have chaos," Liedtke said.
During a question and answer session with reporters, Hainer batted away questions on the search for his replacement, but said the new strategy would outlive his tenure.
"This plan will be brought forward with or without me," he said.
Before it's here, it's on the Bloomberg Terminal.
LEARN MORE