Five Things Everyone Will Be Talking About Today
There's a lot going on today. Catch up fast
by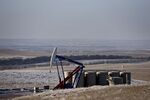 Saudi Arabia launches strikes on Yemen, crude surges, European stocks dive. Here's your superfast rundown on what's been happening and what to look out for.
Saudi strikes
Saudi Arabia and its allies have launched air strikes on rebel targets in Yemen. The rebels took over the palace of President Abdurabuh Mansur Hadi back in January. The big problem for the wider region is that the rebels are backed by Iran and the president is backed by Saudi Arabia. The latest developments in the country are raising concerns about the prospect of a direct conflict between the two local superpowers.
Oil is surging
The uncertainty in the Middle East is injecting a ton of uncertainty into the oil market. Yemen isn't exactly a major oil producer; it's the 39th biggest oil producer, to be precise, but it is close to the epicentre of the world energy trade. Oil surged more than 6 percent at one point overnight, and West Texas Intermediate is now well on course for its biggest week of gains since 2009.
European stocks are getting slammed
It has been a choppy 24 hours for global equity markets, and the selloff is continuing in the European trading session. The DAX was down close to 2 percent at one point, and the euro continues to trade around a recent high of $1.10. The German equity benchmark had jumped more than 20 percent over the first three months of the year, but fresh tension in the Middle East and a stronger euro are putting the brakes on that stunning rally.
U.S. stocks can't get it together
U.S. futures indicate stocks are heading the same way as Europe. The S&P 500 has now gone 26 days without stringing together back-to-back gains. That may not sound like a lot, but data compiled by Bloomberg show it's actually the longest such stretch since 1994. Together with developments in Yemen, investors will be looking out for initial jobless claims and Markit's U.S. composite PMI. 
Germanwings pilot may have been locked out of cockpit
Beyond markets and geopolitics, the mystery behind the Germanwings air disaster deepens. The New York Times is reporting that one of the pilots of the doomed Airbus A320 jet may have been locked out of the cockpit just minutes before impact. 
Before it's here, it's on the Bloomberg Terminal.
LEARN MORE