Yale to Name Campus Tower in Honor of Endowment Manager Swensen
Michael McDonald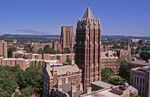 Yale University will rename a campus tower for endowment manager David Swensen at the request of donors who gave $25 million for the building's restoration.
Swensen, 61, the university's chief investment officer since 1985, has "redefined the model for institutional investing," the university said in a statement. Yale has a $23.9 billion endowment, which has grown more than 15 times in value under Swensen's management, the school said. It's the third largest among all universities.
Lisbet Rausing and Peter Baldwin, historians who oversee a London charity called the Arcadia Fund, made the gift in Swensen's honor. Yale's 14-story Hall of Graduate Studies, which is being overhauled to provide a new home for the humanities, will now be known as David Swensen Tower, the university in New Haven, Connecticut, said.
Baldwin, a Yale alumnus who teaches at New York University, confirmed the $25 million gift in an e-mail. Rausing is the daughter of Swedish industrialist Hans Rausing. The two also gave the university $25 million four years ago to establish the Institute for the Preservation of Cultural Heritage.
Before it's here, it's on the Bloomberg Terminal.
LEARN MORE